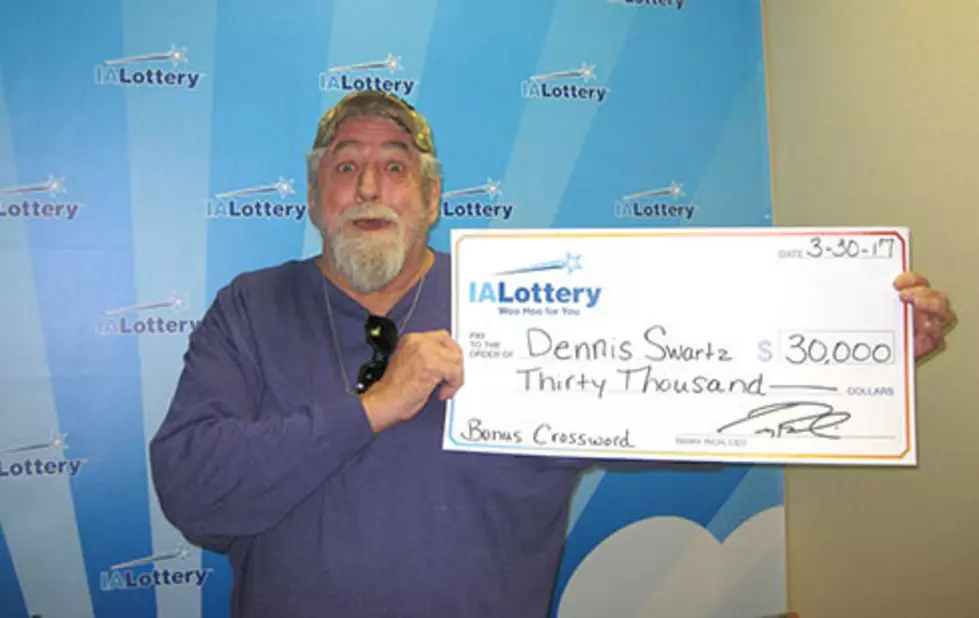 Cedar Falls Man Wins $30,000
Dennis Swartz - Iowa Lottery
A lucky Cedar Falls man just won $30,000 playing one of the Iowa lottery's scratch tickets. He plans to share it with his sisters.
Dennis Swartz claimed the 19th of 91 top prizes of $30,000 available in the Iowa Lottery's "Bonus Crossword" scratch game.
Swartz bought his winning ticket Monday at Hy-Vee, 4000 University Ave. in Waterloo and scratched it off right away. He had to look over his work several times, though, before he knew he won the game's top prize.
"Actually it kind of stunned me. I did not know until I was finished scratching it. I knew I had a couple words." - Swartz told lottery employees Thursday.
The 67-year-old retiree ended up scratching off 10 complete words on his winning ticket and with it one of the game's top prizes.
Swartz  said he plans to share his winnings with his four sisters, all of whom live in the Cedar Valley. And as for his portion of the winnings, Swartz said he plans to save it for "a rainy day."
Bonus Crossword is a $3 scratch game. More details about how to play this game, and the number of prizes still up for grabs in it can be found on the Iowa Lottery's website, www.ialottery.com.