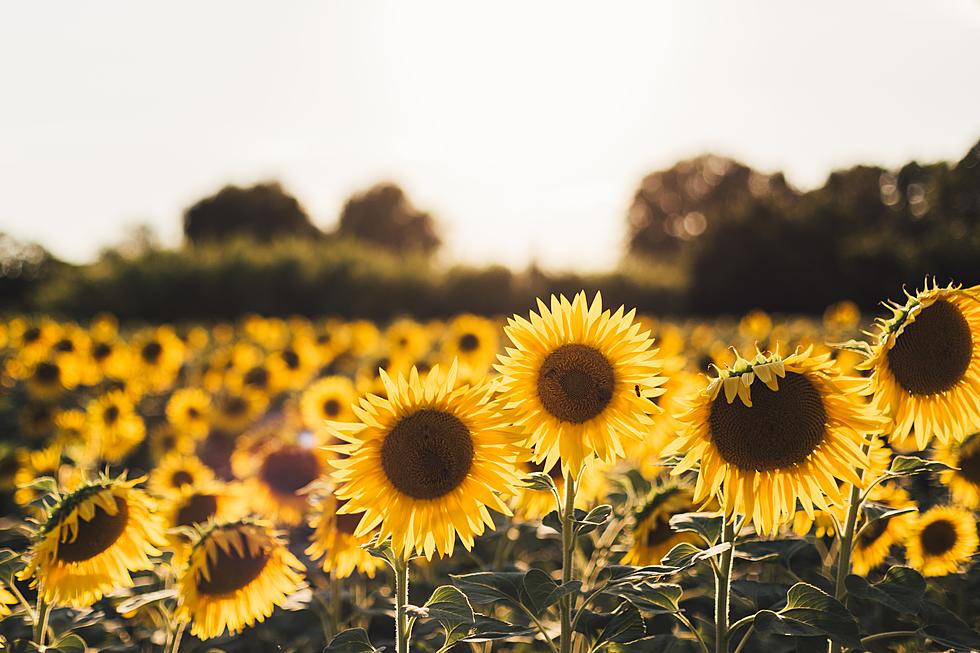 Acres of Sunflowers are Popping Up Across Eastern Iowa
Jordan Cormack, Unsplash
Sunflower fields are the perfect place for a summer photo op, and there are several of them you can visit these next few months!
Over the weekend, I picked up some fresh-cut sunflowers from a stand at the Downtown Cedar Rapids Farmers Market. And if one place has them, that means that others do, too! Using the Iowa Road Trip website, I put together a list of Eastern Iowa farms that allow visitors at their sunflower fields. Here are a few of the places you can check out in 2023:
Located just north of the corner of US Hwy 30 and State Hwy V40/13th Avenue in Benton County
Open August 9th through 15th from 9 a.m. to 8 p.m. - additional August and mid-September dates will be added, depending on weather and blooms
Features 10 acres of sunflowers, cut-your-own sunflower bouquets ($2 per stem), photo stations, and children's activities
Cost is $7 per person (includes one sunflower) - ages 3 and younger are free
Cash and cards are accepted
Located at 3260 69th Street, Atkins
2023 Sunflower Festival dates TBD
Sunflowers will be visible at Wine & Flower Fest - July 28th through 30th, August 4th through 6th, & August 11th through 13th
Open from 2 p.m. to 9 p.m. on Fridays & Saturdays and 12 p.m. to 6 p.m. on Sundays
Featuring fields of sunflowers and zinnias, live music, a beer garden, a wine room, photo ops, yard games, hayrack rides, farm animals, and more
Tickets are $15.95 online and $19.95 at the gate - ages 2 and under are free
Located at 1977 Highway 2, Donnellson
Beginning in late August or September, depending on the blooms
Featuring 10+ acres of sunflowers, photo op areas, cut-your-own flowers, and play areas
Admission TBA
Located at 14600 305th St, Long Grove
Open Wednesdays through Sundays from July 12th through 30th - 10 a.m. to 4 p.m.
Featuring fields of sunflowers & zinnias, photo ops, farm activities, entertainment, concessions, and more
Admission (includes one sunflower) is $15 for ages 13+, $10 for ages 3 to 12, and free for ages 2 and under - Purchase tickets online HERE
Located at 1150 Front St, North Liberty
Tentative Dates are August 26th & 27th and Sept 2nd through 4th from 10 a.m. to 6 p.m.
Featuring sunflower fields, farm activities, photo ops, and more
Credit is preferred, but some areas are cash only
Admission is $12 on weekdays and $14 on weekends - ages 2 and under are free
Iowans Show Off Their Most Beautiful Photos of the State
22 Fun Places to Take Your Kids This Summer in the Corridor
We put together a list of 22 kid-friendly places in the Corridor - some for little ones, some for kids, some for teens, and some for kids at heart! Here are some venues you might want to check out!