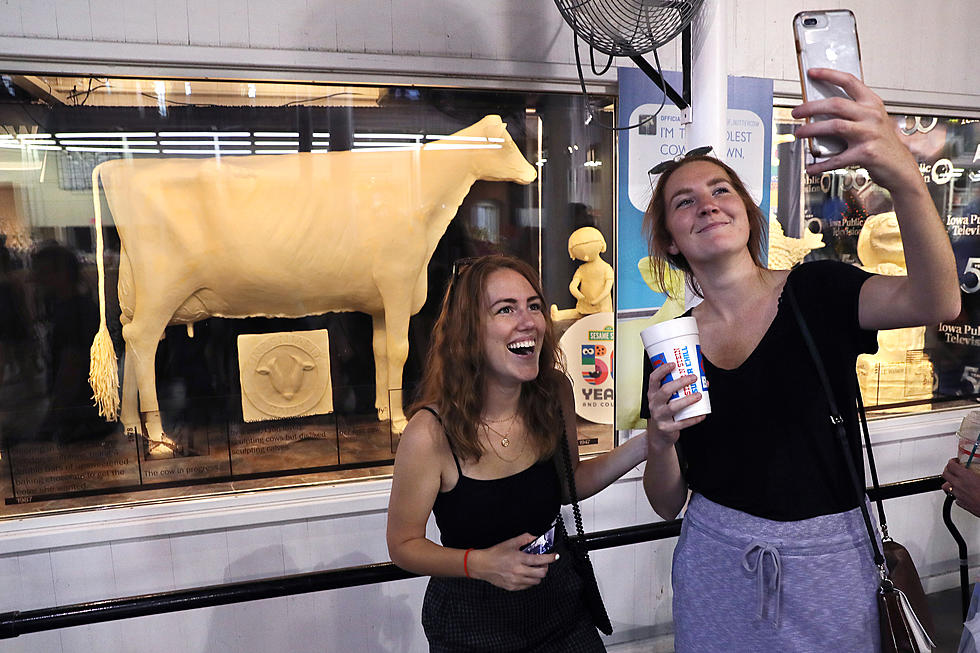 Famous Iowa Athletes to Join Butter Cow in Cooler at Iowa State Fair
Getty Images
When the 2023 Iowa State Fair opens on August 10, the butter cow will have plenty of company in the cooler in the John Deere Agriculture Building. The likenesses of three different famous athletes from the state of Iowa will also be inside this year.
Amazingly, the butter cow has been part of the Iowa State Fair since 1911. In all those years, only 5 people have been responsible for crafting the butter cow, though they all have gotten some assistance. Sarah Pratt of West Des Moines has been the butter sculptor at the fair since 2006. This is her 2015 creation:
Over the years, other things have been crafted in butter and joined the butter cow. This summer, a likeness of former Iowa State football player Jack Trice will be inside.
Iowa State's Jack Trice Stadium honors the man who died 100 years ago, in 1923. Trice was only 21 when he was trampled by players from Minnesota during a college football game. He was cleared by doctors to return to Ames and died of internal bleeding two days later.
As the Iowa State Fair notes, "His likeness in butter will be a testament to his impact on not only Iowa State bt on college athletics across the country. The first Iowa State Fair butter cow was sculpted just 12 years before Jack Trice played football and ran track at Iowa State."
The likeness of Arena Hall of Fame and Pro Football Hall of Fame member Kurt Warner will also be inside. The man who worked at Hy-Vee as a stocker while continuing to pursue his dream of playing professional football is the only player to be in both the Arena and Pro Football Hall of Fame.
Warner, a quarterback, was a 4-time Pro Bowler who was named MVP of the NFL in 1999 and 2001. He played at Cedar Rapids Regis before going to UNI, the Iowa Barnstormers, and eventually the NFL. Warner also won the 2000 Super Bowl with the St. Louis Rams.
A likeness of Iowa women's basketball player Caitlin Clark will also be included this August. I know you remember that last-second shot versus Indiana this past season at Carver-Hawkeye Arena. I think she's still pumped up from that.
Clark, from West Des Moines, is the first Divison I women's player in history to score over 1,000 points and dish out over 300 assists in the same season. Last season, she won countless awards, including National Player of the year and Collegiate Female Athlete of the Year.
The butter cow is going to have some very deserving company in the cooler this year. If you want to see them all, I'd suggest you start your visit to the Iowa State Fair with a trip to the Agriculature Building. It is open during the fair, August 10 through 20, from 9 a.m. to 8 p.m. each day.
Iowans Show Off Their Most Beautiful Photos of the State
Iowa's Most Expensive Home is Light Years Beyond Ordinary
The home is more than 24,500 square feet and has 8 bedrooms, 15 bathrooms, and sits on the shoreline of West Okoboji Lake. The property actually covers two addresses: 16216 and 1615 Ia-86 in Spirit Lake. The list price is $11.9 million. The agent is Eric Hoien of
Hoien Realty
.