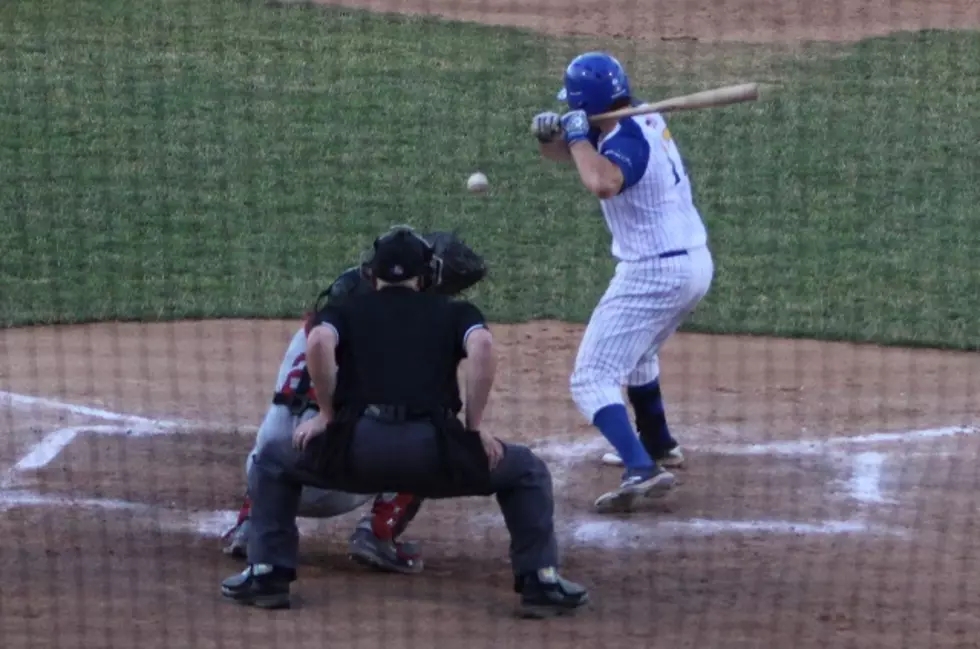 Bucks Shutout Thunder Bay In Rain-Shortened Game
Photo By: Elwin Huffman - Townsquare Media
The Waterloo Bucks ran their winning streak to seven games with a rain-shortened, 11-0, win over the Thunder Bay Border Cats at Riverfront Stadium Friday night (June 16, 2017).
Batting as the visiting team in their home venue for the second game in a row, the Bucks (14-4) got off to a quick start. Zach Malis set the tone early, hitting a two-run home run off the video board in right-center field in the top of the first inning.
Drew Greenwood also clubbed a home run in the third inning, a solo shot to left-center field. Malis followed later with a run-scoring single, before John Cable split two outfielders for a two-run hustle double that pushed the Bucks' advantage to 6-0 after three innings.
Waterloo put the game away with a five-run fourth inning that featured 11 batters. Cable starting the scoring serge when he drew a two-out, bases-loaded walk. Keaton Presley followed with an RBI single left, then Josh Elvir plated two teammates with a single to right field. Two batters later, Dalton Hurd drove-in the Bucks' 11th run of the game with a single to left.
Thunder Bay (6-12) ended the shutout with a run in the bottom of the 6th inning. The Border Cats began the frame with three-straight singles, but never got the chance to finish their at-bat. An approaching thunderstorm forced umpires to stop play with the Bucks leading 11-1. The game was eventually called after a one-hour delay.
Due to Northwoods League rules, since the bottom of the sixth inning was still in progress, the score reverts back to the last inning completed. Therefore, Waterloo is credited with an 11-0, five-inning victory.
Bucks' starting pitcher Jared Crescentini (1-1) had just left the game when the decision was made to stop play. He earned the win, recording seven strike outs and allowing two hits in five innings of work.
The game wrapped up a long, season-opening journey for Thunder Bay, which was forced to play its first 18 games at the visiting team's stadium or at neutral sites due to renovation work at its home venue -- Port Arthur Stadium. After completing their two-game home series against the Bucks in Waterloo, the Border Cats were prepared to make the 10-hour trip home to host Eau Claire on Saturday and Sunday. On Monday, they return to Waterloo for another two-game series.
UP NEXT: The Bucks open at two-game home-and-home series with Rochester. They face the Honkers at Mayo Field in Rochester, Minn., Saturday night (June 17), before returning to Waterloo to complete the series at 2:05 p.m. Sunday.