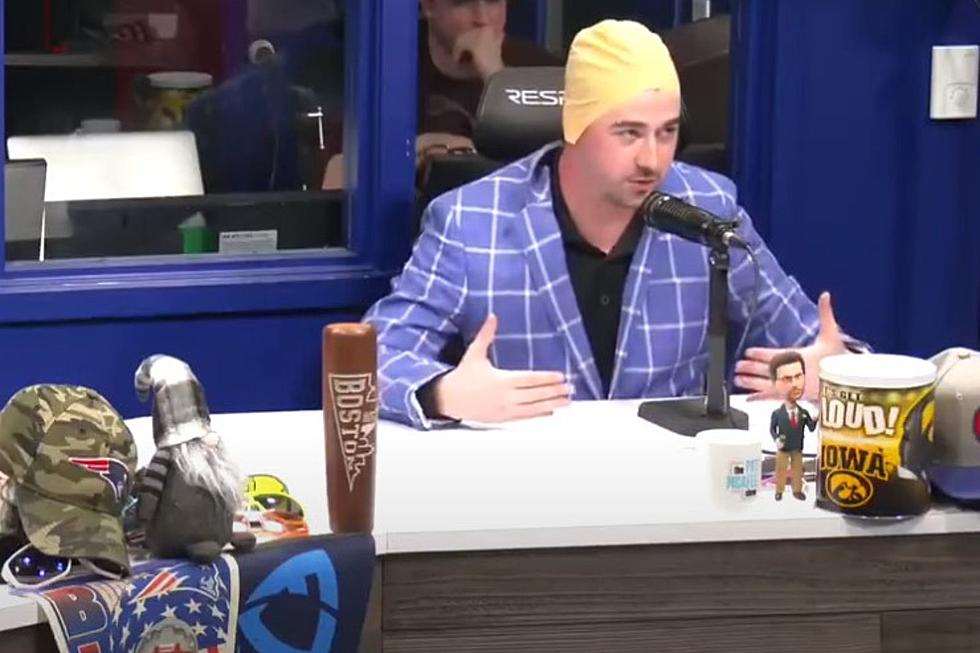 Waterloo Native Has One Of The Best Jobs In All Of Sports
Chris Hale via YouTube
A former graduate of Columbus Catholic High School in Waterloo, Iowa has one of the coolest jobs you can have in sports and sports media. Ty, who also graduated from the University of Iowa is living the dream as he currently produces one of the biggest sports talk shows in the world. Not too bad for an Iowa boy who wasn't happy with his sales job and took a chance to become an intern for former NFL star Pat McAfee.
Ty Schmit is the producer for the Pat McAfee show, which is quite literally one of the biggest sports talk shows in the world. The show, which was recently purchased by ESPN, airs on YouTube and currently has 2.22 million subscribers.
Ty graduated from the University of Iowa in 2014 and joined Pat McAfee in 2017, according to the University of Iowa. If you've never heard of Pat McAfee, he is a former punter for the Indianapolis Colts who also happens to have a giant personality. He's cashed in on that personality and his show has already signed multi-million dollar deals with various sponsors as well as the worldwide leader in sports, ESPN.
According to the University of Iowa, one of the best classes Ty ever took during his time at school was a creative writing class. He said
I took a creative writing class at Iowa that was probably the best class I ever took. We could write whatever we wanted, and that allowed me to explore stuff I was really interested in.
After graduation, Ty moved back to Waterloo and took a sales job. His entire life changed when he saw a tweet from Pat McAfee, who was requesting people to send in videos for an internship. It was a long shot as around 1500 want to be interns submitted for the job and Ty was one of the lucky 20 who secured an internship during that summer. The rest is pretty much history.
Ty started out as a blogger and writer for the show, got the opportunity to be a producer, and he's been on the mic ever since. According to the University of Iowa, the Pat McAfee show has recorded over 900 episodes and in my opinion is one of the most funny sports talk shows on the planet.
Ty has made a bit of a name for himself with his impersonations and you can see countless of these online. Whether he's impersonating NFL draft expert Mel Kiper, former college football coach Lou Holtz, NFL insider Jay Glazer, or Detroit Lions Head Coach Dan Campbell...Ty has quite a bit of range.
*WARNING STRONG LANGUAGE IN THIS CLIP*
Pat McAfee has shown his appreciation for this Waterloo High School graduate many times in the past but this tweet sums up their friendship pretty well.
For now, Ty Schmit has one of the coolest jobs in sports and sports media. He basically gets to hang out with his friends and bs all day, while cracking jokes and talking about sports. At some point in his life, Ty might switch his focus to screenwriting but for now, he's having a blast. He told the University of Iowa
I think at some point my focus will come back to screenwriting, but I'm going to ride this thing until the wheels fall off—or until we all agree to go our separate ways. It's too much fun. I like the people I work with too much, and it doesn't feel like an actual job. We continue to grow and have more success, so until I'm asked to leave, there's no way I'd want to be doing anything else.
Iowa Born Sports Stars
What do each of these stellar athletes have in common? They all hail from the Hawkeye State.
Biggest Winners in the History of the Lottery in Iowa
These are the people who have cashed the biggest checks since the Iowa Lottery debuted in the summer of 1985.