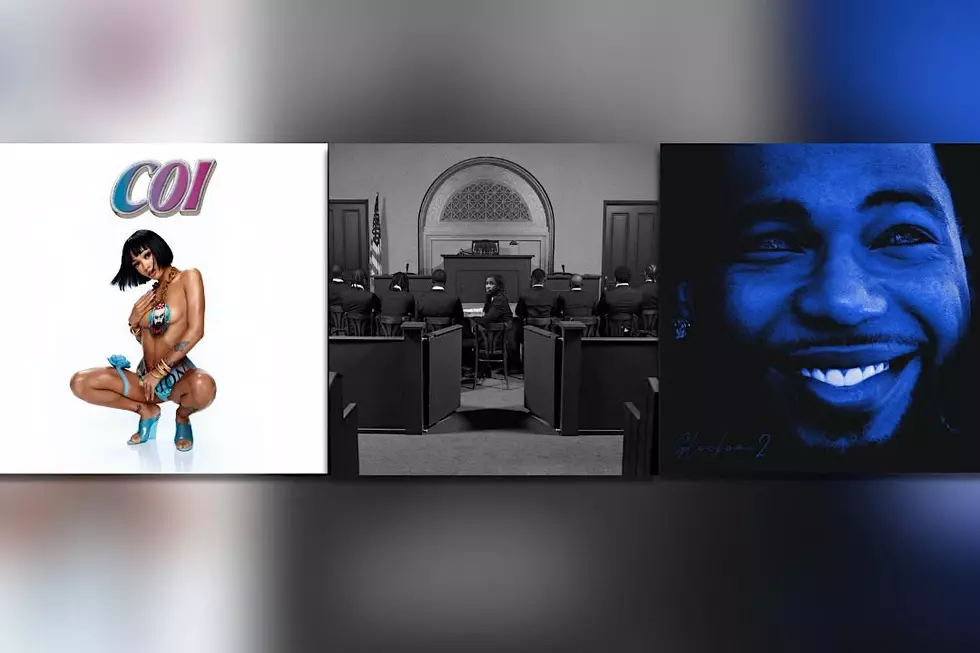 Young Thug, Coi Leray, Key Glock and More – New Hip-Hop Projects This Week
Uptown Records/Republic/Young Stoner Life Records/300 Entertainment/Paper Route Empire
A new Summer season is underway and there are plenty of hot releases on deck. This week, a beloved Atlanta rhymer marks his return with a new project amid his ongoing RICO trial, a former XXL Freshman drops her second LP, a Memphis rapper reloads with more songs for his deluxe album and more.
Young Thug Releases Business Is Business Album
Young Thug blesses his diehard fans with a surprise album titled Business Is Business.
As Young Thug currently sits through the chaos of his ongoing YSL RICO trial, the embattled rapper returned to the rap game with his new project Business Is Business. This will be the Atlanta native's first solo album since his 2021 LP Punk.
Before releasing the album, Thugger had fans scratching their heads when he posted a cryptic QR code on his Instagram account. The barcode led to a countdown of something but no one knew until now. Several of Thug's friends shared the barcode on their own social media channels including 21 Savage, Metro Boomin and Southside.
On Thursday (June 22), Thug revealed that his mysterious project would be a full-length album. The 31-year-old rhymer also revealed the star-studded tracklist. The 15-song LP boasts guest appearances from Drake, Travis Scott, 21 Savage, Lil Uzi Vert and more. Mysteriously, however, there's no contribution from Gunna or even Lil Baby.
Nevertheless, it's good to hear from Thugger under the circumstances.
Coi Leray Drops Her Coi Project
Coi Leray slides through with her second full-length project called Coi.
Coi Leray is in her zone and she's ready to prove that she has staying power in the rap game. The 2021 XXL Freshman is back with her second album, simply titled Coi. The project follows her 2022 debut LP Trendsetter.
The album has 16 "bops" and multiple rap cameos. Fellow rhymers Saucy Santana, Lola Brooke and grime artist Giggs come through with lyrical assists on the long player.
In her May 2023 interview with XXL, Coi said that with her second album she feels more confident in herself and in her music. "I feel like now we finally realized—my label, team—that no matter what, I'm amazing at this music s**t," she attested.
The "Players" rhymer later added: "I know that my music is timeless and its global."
Check out Coi Leray's latest video for "Bops" below.
Key Glock Delivers Glockoma (Deluxe) Album
Key Glock returns with more tracks added to his Glockoma 2 (Deluxe) album.
Key Glock could have just rested on his rap laurels after delivering his well-received album Glockoma 2 back in February of 2023. But like a true hustler, the grind doesn't stop.
The Memphis rapper is back with Glockoma 2 (Deluxe) which features eight brand new tracks. One of the songs is the Tay Keith-produced banger "Presidential Rolex." You can watch the video below.
Now with several gold and platinum plaques and over 140 million streams under his belt, Key Glock is not worried about being left out of certain conversations in the rap media.
"It don't get to me...that's what they don't understand," he explained to XXL in the Spring 2023 issue. "That s**t made me stronger. It really do something to me to know that muthaf**kas secretly listen to you and like you, but don't wanna like acknowledge you. Gotsta be since then. doing something right. That's how I look at it."
This summer, Key Glock will perform at two big music festivals: Rolling Loud in Miami on July 21 and the Lollapalooza Festival in Chicago on Aug. 3.
Check out other new projects this week from Baby Money, Big Freedia, Lil Poppa and more below.
Business Is Business

Young Thug

Young Stoner Life Records, 300 Entertainment

Young Stoner Life Records, 300 Entertainment

Uptown Records/Republic Records

Uptown Records/Republic Records

Glockoma 2 (Deluxe)

Key Glock

(YNOS 2) Young N***a Old Soul 2

Baby Money

Half Man Half Vamp

Lil Poppa

Safe House

Danny Towers and DJ Scheme

Fishscale Way

Bobby Fishscale

Watching Movies With the Sound Off (10 Year Anniversary Edition)

Mac Miller