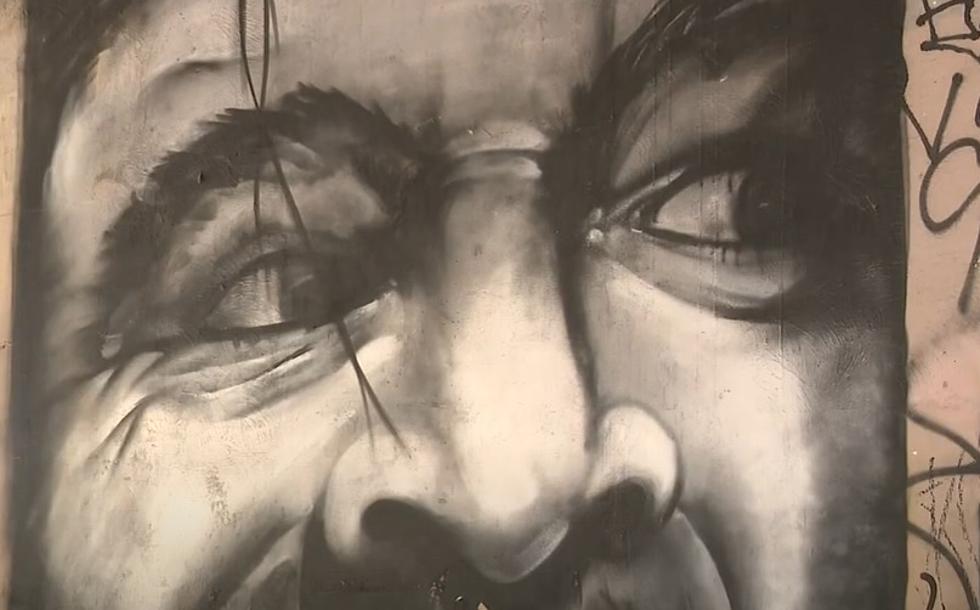 An Iowa City Wants 'The Shining' Mural Taken Down [VIDEO]
YouTube via We Are Iowa Local 5 News
As we approach Halloween, one Iowa city isn't happy with a mural depicting one of Hollywood's most famous horror movie scenes. Few films are as feared as Stanley Kubrik's 'The Shining' especially this time of year. But when an image of Jack Torrence shows up in your city, you better believe not everyone is happy.
The mural in question is located at the SW 9th viaduct in downtown Des Moines, according to WeAreIowa.com. The artwork has been up for several months but is gaining more attention now as Halloween approaches. Some residents believe the artwork is OK. Anand Murugappan told We Are Iowa that "it's pretty well done compared to the average artwork made on a building." However, other citizens and the city of Des Moines, view it as graffiti and want it covered up.
One business owner told We Are Iowa that he has had problems with graffiti in the past, with several of his vehicles and a building being tagged. He also stated that if you want to paint something on a business, just ask the owner. More times than not, they'll probably say yes. The city of Des Moines was unaware of the mural and stated that no permits were requested for the project. The city also issued a statement saying that the mural won't be around for long.
We are working with an area business to cover the existing mural. The viaduct is scheduled for construction maintenance in spring of 2025, and any artwork located on the viaduct should expect to see some damage.
It appears this may be the only Halloween that Jack Torrence's face will stare at you in downtown Des Moines. I know if that was part of my daily commute I'd feel a bit creeped out as it stared at me. Goodbye, Johnny! 
SWEET: Here are the most popular Halloween candies
LOOK: How Halloween has changed in the past 100 years
Stacker
compiled a list of ways that Halloween has changed over the last 100 years, from how we celebrate it on the day to the costumes we wear trick-or-treating. We've included events, inventions, and trends that changed the ways that Halloween was celebrated over time. Many of these traditions were phased out over time. But just like fake blood in a carpet, every bit of Halloween's history left an impression we can see traces of today.
Gallery Credit: Brit McGinnis