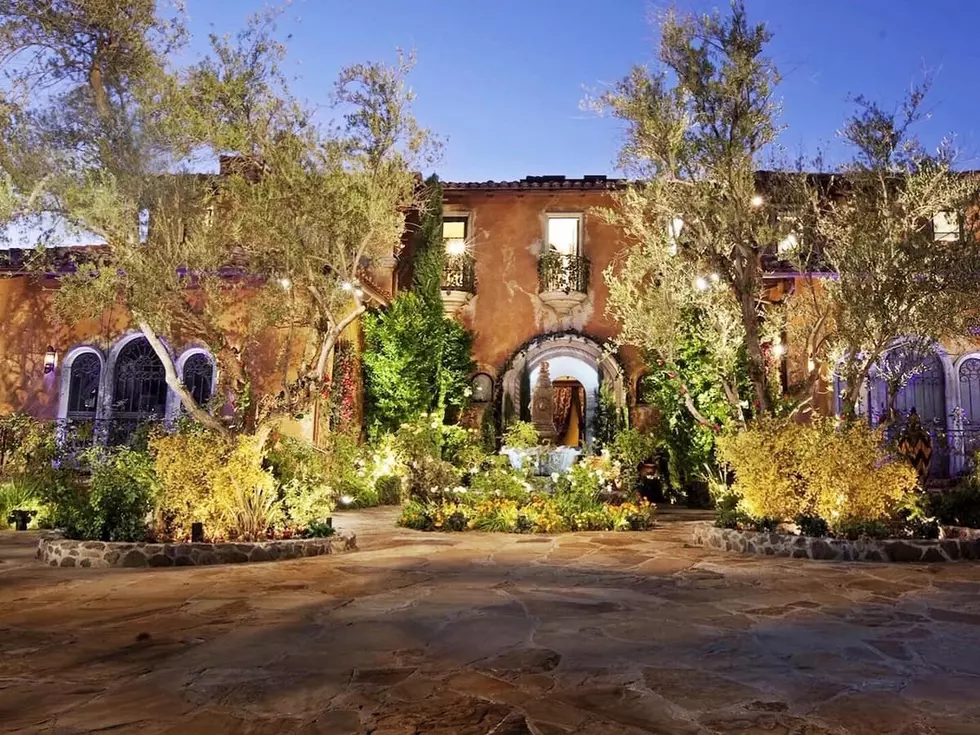 PHOTOS: Rent The Entire 'Bachelor' Mansion Through Airbnb
Photos courtesy of the host Nick via Airbnb.
Enter your number to get our free mobile app
Get ready for the most dramatic Airbnb stay yet...
Attention Bachelor Nation, you can live out your dream of staying where your favorite Bachelor and Bachelorette moments have happened. The beloved Bachelor Mansion can be rented on Airbnb, and it's really not that expensive.
If you're a fan of ABC's The Bachelor or The Bachelorette, you know just how iconic The Mansion is. The Mansion is where many bachelors or bachelorettes meet their future husband or wife, where many awkward and creative first impressions have taken place, where many tears have been shed, and of course, roses have been given out.
Because of COVID-19, Clare Crawley's season, and now Tayshia Adams' season, are being filmed at La Quinta Resort & Club in La Quinta, California. But that doesn't mean the O.G. Bachelor Mansion is closed up for shop. Actually, it's well open for business.
Villa de la Vina, also known as "The Mansion", sits on 10 acres, and is situated within the Santa Monica Mountains of Malibu, CA. The Mansion has 10,000 square feet of interior space and 20,000 square feet of outside space.
The Mansion is a 200 year-old Mediterranean-style revival house, with a one-of-a-kind pool and the famous Bachelor pool archways.
The Mansion has 7 bedrooms (8 baths) for groups over 13 guests. It also has one of the most famous pools in the world (remember the arches?), two Jacuzzis, a pool table, amazing views, and an enormous outdoor space.
If you think that you'll be able to host a cocktail party Bachelor style, think again. There is some incredibly strict rules when it comes to The Mansion. And trust me, you don't want to break these or else you'll be taking a moment to say your goodbyes.
Here are some of those strict rules:
Absolutely no parties, filming, professional photography or gatherings

If this rule is not followed you will be shut down immediately and the police will be called for trespassing.

Anyone who is not originally communicated to be on property will be immediately told to leave by ownership and subject to fines.
Strict no events, no large gatherings policy
Furniture stays as is
Pool table not to be moved under any circumstances
No smoking inside or near home. Outside by the gate is allowed

$1,500 min fee for evidence of smoking on property or in the house.

Absolutely no climbing on archways in the pool
No loud music after 9pm outside (back yard or front yard)
No touching landscaping lights or sprinklers
Do not use fireplace in pool table room
Pets allowed under 25 lbs.
13 is max occupancy unless otherwise agreed to by host in writing
Please see "House Rules" that every guest must agree to prior to staying at The Mansion.
I know, it sounds like a lot, but let's put it into perspective before you freak out.
If you and 12 of your closest friends rent The Mansion out for a week at $6,000 a night, you include the cleaning fee of $500 and the service fee of $3,458, the total stay will only cost you about $2,150. That's not terrible! Plus, you'll get to live your life long dream of staying in The Mansion where so much Bachelor and Bachelorette history has been made.
Rent 'The Bachelor' Mansion for $6,000 a Night on Airbnb
LOOK INSIDE: Kid Rock Is Selling His Grand $2.2 Million Detroit Mansion