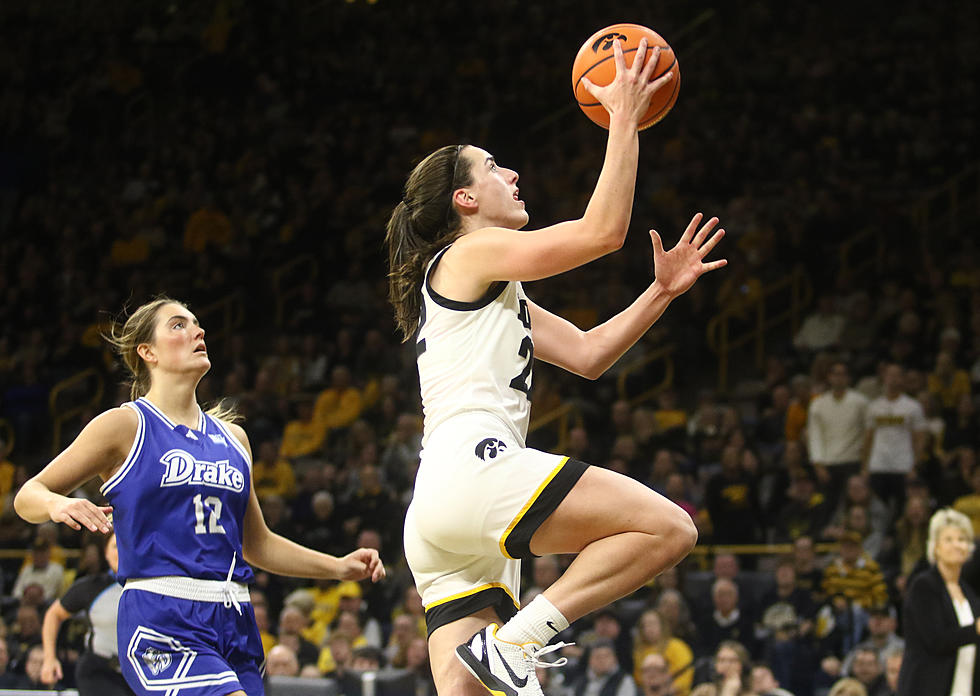 Caitlin Clark Sets Another Record in Win Over Drake [WATCH]
Getty Images
The Drake women's basketball team had to know what was waiting for them Sunday at Carver-Hawkeye Arena. An Iowa team that lost a tough game to Kansas State was waiting, and they couldn't wait to get that loss behind them. Caitlin Clark set another NCAA record and got plenty of help as the Hawkeyes topped the Bulldogs 113-90.
The sellout crowd in Iowa City got to see an Iowa offense that was on FIRE. The Cedar Rapids Gazette reports the Hawkeyes set a school record for most points in the first quarter (37) and most points in a half (64). They missed the school record for points in a game by 2. Iowa shot over 64% from the field and got big games by two of the team's brightest stars. Kate Martin, who was held scoreless against K-State, lit up Drake for a career-high 25 points.
And then there was Caitlin Clark. Iowa's All-American put up this stat line. 35 points, 6 rebounds, 10 assists, and 7 steals. Are you kidding me? After looking a bit sluggish against Kansas State, Clark was all over the court on Sunday against Drake. When Clark scored her 30th point in the 4th quarter, she also broke the women's NCAA Division I record for most games with more than 30 points scored at 39 games, according to the Athletic. If Clark has two more 30-point games this season, she'll own the overall NCAA mark for both men and women.
The Gazette reports that Iowa will head to Florida after the Thanksgiving holiday to play in the Gulf Coast Showcase.
Our Favorite Caitlin Clark Photos
Iowa's nunber two scorer of all-time, after just three seasons, Caitlin Clark continues to build on her already legendary career.
Gallery Credit: Getty Images
Fall Photos from Palisades-Kepler State Park Near Mt. Vernon
The park is gorgeous in the fall.
Gallery Credit: Julie James