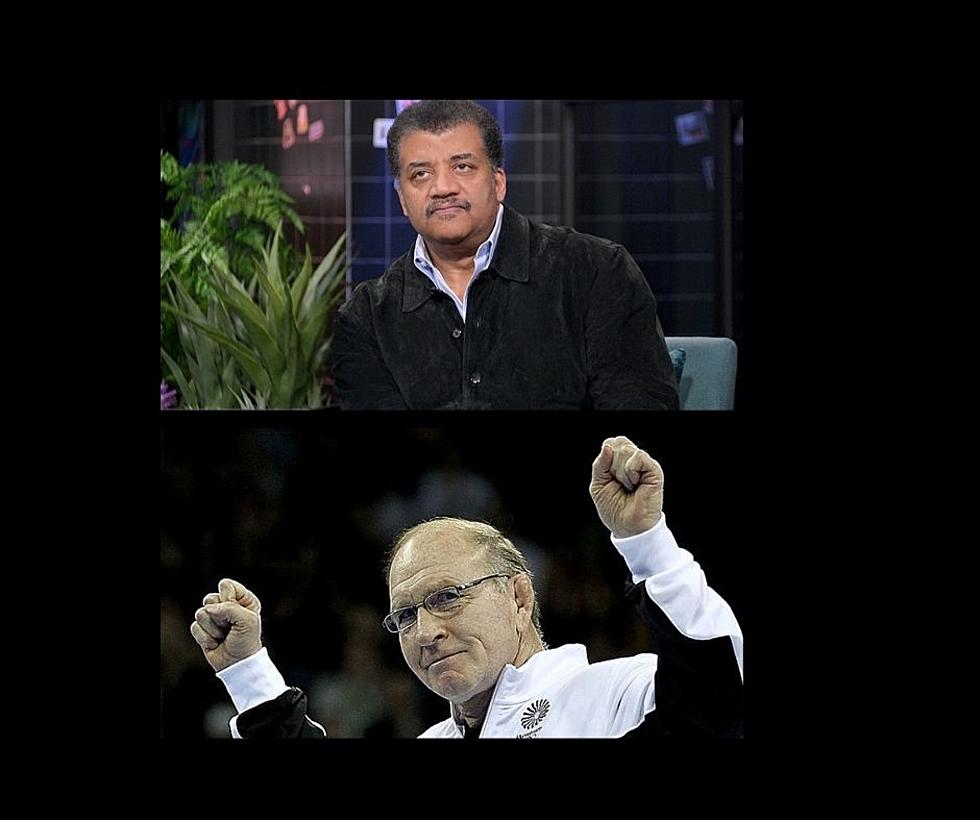 Celebrity Astrophysicist Coming to Iowa Lauds Hawkeye Legend
Getty Images/Canva
Did a super-cool astrophysicist coming to Iowa next week just get even cooler?
It turns out Neil DeGrasse Tyson, who speaks in Des Moines next Tuesday, has a wrestling background and is really looking forward to visiting the state that is more or less the "mecca" of college grappling and home to one of its biggest legends, Dan Gable.
According to the Des Moines Register, deGrasse Tyson first discovered Gable in the 1972 Olympics, saying "when Dan Gable was in the Olympics, nobody scored on him. That's badass." Indeed.
Tyson called his wrestling experience "mild' although he went undefeated in high school and, using his affinity for science, managed to create a signature move called "The Double Tidal Lock" which Science Focus says is named after the phenomenon of a celestial body having the same rotational period as its orbital period around a partner.
At his Des Moines appearance on Tuesday, he will cover the importance of having a "Cosmic Perspective" on life, love, and politics"...and maybe wrestling? It's also not known whether Gable will attend the show.
Tickets for "Neil deGrasse Tyson: The Cosmic Perspective", Tuesday night, April 5 at 7:30 at the Des Moines Civic Center, range from $45.50 to $150 and can be purchased here.
Want to keep up to date with the latest in local and music news? Download our app! It's completely free and not only will you be the first to know about breaking news, but we'll also keep you updated on concerts and other events coming to the area. You'll also have exclusive opportunities to win tickets. What are you waiting for? Get the free app today.
H/T: DanGable.com/Science Focus
Iowans Share Their Random Celebrity Encounters
7 Things You May Not Have Known Were Invented by Iowans
Iowa is home to some pretty cool inventors! Here are seven things you may not have known were invented by Iowans!