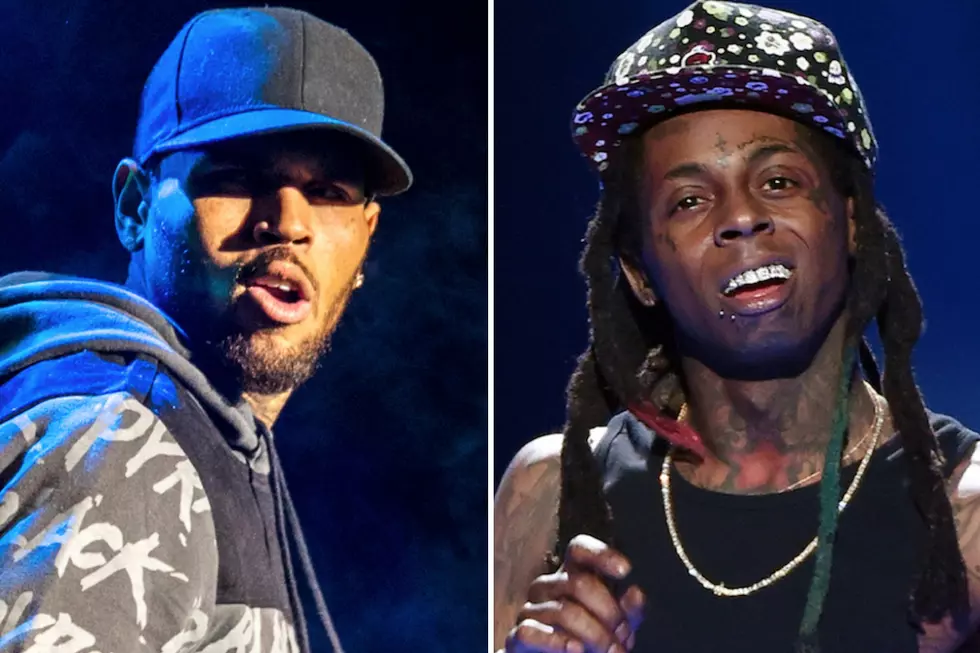 Chris Brown and Lil Wayne Targeted in Federal Drug Case Against Miami Producer
Christopher Polk / Ethan Miller, Getty Images
Chris Brown and Lil Wayne were recently targeted in a federal drug case against a Miami producer who is accused of being a drug dealer.
According to the Miami Herald, Harrison Garcia is currently on trial for allegedly dealing drugs and using the profits to buy a fleet of luxury cars, expensive sneakers and a cache of firearms. The 26-year-old man, who flaunted his lavish lifestyle on Instagram, is also accused of providing drugs to Breezy and Wayne.
On Thursday (April 6), U.S. Homeland Security Agent Kevin Selent testified that Brown allegedly paid $15,000 to Garcia who boasted that the money was for drugs and the cough syrup-and-soda concoction known as "lean." In addition, when Garcia was first arrested last October, he confessed to authorities that he sold Wayne "a lot of narcotics," according to the agent.
When Garcia's defense attorney pressed for more information, Agent Selent responded, "It's still an open investigation. I can't talk about it."
Garcia's lawyers, Gustavo Lage and Percy Martinez, have maintained that their client wasn't a drug dealer but was showing off his luxury items to build his followers up on social media. Garcia's attorneys believed that the feds are railroading Garcia to get a win in their drug case by targeting Brown and Wayne.
The trial will continue through Friday (April 7) before the case goes to the jury for deliberation.
Reps for both Chris Brown and Lil Wayne had no comment on the matter.
10 Rappers' Lowest Career Moments