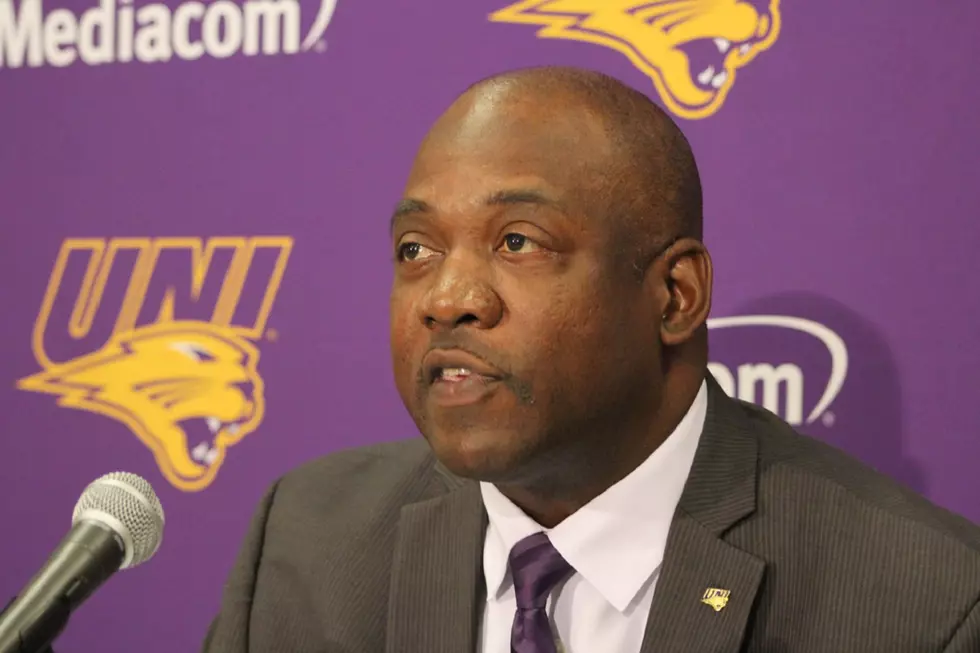 UNI Athletic Director Harris Signs Contract Extension
Photo By: Elwin Huffman - Townsquare Media
Director of Athletics David Harris has been rewarded for the work he's doing at the University of Northern Iowa.
Harris has signed a five-year contract extension with UNI. Under an agreement announced by university officials Tuesday morning, Harris would remain UNI's athletic director through June of 2025. He's been in charge of the Panthers' athletic department since February 2016.
"I am very grateful to President (Mark) Nook for providing me the opportunity to continue leading the UNI Athletics Department," Harris said in a statement released by the university. "My family and I have truly made the Cedar Valley our home, and we love being part of the Panther Family. This extension represents a tremendous vote of confidence in the work being done by our staff each and every day. We look forward to continuing to build on the momentum that has been established by our coaches, staff and student-athletes and creating a bright future for Panther Athletics."
President Nook thanked Harris for his dedication to UNI Athletics and the Cedar Valley community.
"It is great news for the University of Northern Iowa and for Panther fans that David agreed to extend his commitment to leading Panther Athletics," Nook said. "David's leadership of our athletics program over the past four years has been outstanding. He has a clear vision for athletics with a focus on the success of our student-athletes in the classroom, in the community and in competition. He is an invaluable part of our university, the Cedar Valley and the state of Iowa."
Since joining UNI, Harris has led significant improvements in athletics.
UNI's national reputation for high-level competition continued to expand under Harris' leadership. In 2018-19, UNI earned championships in volleyball and men's outdoor track and field. The Panthers also matched UNI's highest finish in the Missouri Valley Conference All-Sport Trophy ever, earning runner-up honors. Football, volleyball and women's basketball all saw postseason competition, and UNI wrestling finished 13th in the NCAA Championship on the back of Drew Foster's individual title.
Academically, a school record of seven teams were recognized by the NCAA for their Academic Progress Rate scores in 2019, finishing in the top 10 in their individual sports. Overall, UNI student-athlete grade point averages have exceeded the student body's GPA for 18 consecutive semesters.
The athletics division announced Panthers Rising in the fall of 2018, UNI's first-ever strategic plan to achieve unprecedented success in academics, competition and all of its endeavors. Also in 2018, athletics initiated Elevating Educators, an undertaking focused on celebrating and honoring educators.
The Panther Scholarship Club (PSC) saw record fundraising years in 2017 and 2018. In 2017, the PSC raised a cash record of $1,523,719 for student-athlete scholarships. In 2018, the PSC surpassed another record by raising over $2.4 million in revenue. And in 2017, Harris initiated Panther Caravan, a community outreach event that included five stops in seven cities around Iowa. The 2019 Panther Caravan saw a 70% increase in attendance over 2018.
UNI's facilities have also seen improvement in his first three years. The playing surface at the McLeod Center was replaced in the fall of 2018, and a new artificial surface was installed for the UNI-Dome before the 2017 season. Panther softball opened a new on-campus hitting facility in 2017. Additionally, the city of Cedar Falls, the Cedar Falls Community School District and UNI collaborated on a new on-campus tennis facility that was dedicated in 2017.
Earlier this year, Harris was appointed to the NCAA Division I Council, a 40-member council responsible for the decision making of the division. As part of those responsibilities, he acts as the council representative for the Women's Basketball Oversight Committee.
UNI Public Relations News Release