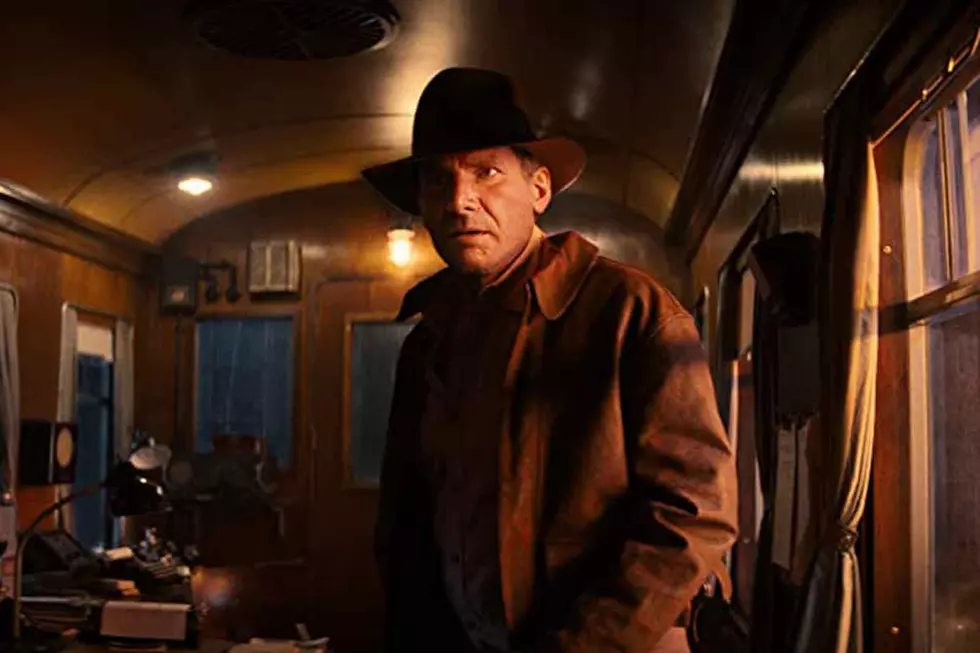 'Indiana Jones and the Dial of Destiny': Movie Review
Lucasfilm Ltd.
Anyone who believed 2008's Indiana Jones and the Kingdom of the Crystal Skull would be the last we'd ever see of Harrison Ford's rugged action hero probably based that on the thought that the star, now 80, couldn't possibly squeeze into the fedora one more time – let alone carry out the body-taxing adventures that come with the famous hat.
But that thinking ignores the resilience of a hit franchise and old-fashioned Hollywood magic. For Indiana Jones and the Dial of Destiny, Ford, executive producers Steven Spielberg (who directed the previous four outings) and George Lucas (who co-wrote the other movies but is absent here), and new director James Mangold (best known for Logan, Ford v Ferrari and Walk the Line) pile on everything fans love about the series. But more often than not it feels like a homage to Indiana Jones rather than the real thing.
A sequel to Crystal Skull (which is better than its reputation lets on), Dial of Destiny is set a dozen years after the previous film, in 1969, just days after a man walked on the Moon. Indy has just retired from his teaching position when he is approached by his goddaughter Helena (Phoebe Waller-Bridge), the daughter of a late archaeologist friend looking for a real-life Greek mechanism called the Antikythera. The mystical dial, part of which Indy from wrestled from a Nazi scientist (Mads Mikkelsen) 25 years earlier, poses a bigger threat than anyone, including Indiana Jones, is aware.
Like its predecessors, this fifth movie wastes no time throwing Indy, and the audience, straight into the action with an establishing scene set in 1944. When we first see him, he's been captured by Nazis and left swinging by a rope as Allied forces attack from above. He narrowly escapes, only to find himself part of a Nazi caravan of cars, motorcycles and a train.
It's all set up for Dial of Destiny's main story concerning the recovered Antikythera from the film's opening adventure and its power to create a "fissure in time." Helena, eager to get her hands on the section of the dial once owned by her father, enlists Indy – grizzled, cranky and in no mood for another exploit – for one final escapade. From here on out, action scenes appear about every 20 minutes, bringing Indy to Tangier, on horseback, undersea and, once again, into a deadly and mysterious cave.
There are some fun moments, but the late-'60s period setting – complete with hippies, war protesters and Beatles music – initially clashes with the image of Indiana Jones we are used to. When the adventures eventually land in more exotic and timeless locations, the long and exposition-heavy Dial of Destiny improves. Without saying as much, the movie wants to send Indy, and Ford, away with one final episode that looks like the ones he had in the past. So there are scenes where he dons the famous hat, cracks the trusty whip, banters with the woman lead and dispenses villains in often funny and extravagant ways. Plus there's the crucial third act that combines science, history and the supernatural.
Ford has long worn into the character, so Indiana Jones and the Dial of Destiny doesn't need to spend much effort confirming his position. Yes, his age figures into the plot, but there are also more layers to the character this time; a story about the fate of his son (introduced in Crystal Skull) and separation from his wife Marion (a returning Karen Allen) is poignant.
So is the last scene, which offers a fitting conclusion to the Indiana Jones saga. But who's watching Indiana Jones movies for character development? That leaves Dial of Destiny with a bit of a problem: How does an old action hero age gracefully? The movie attempts to answer that question, and seems to be heading there at one point, but instead falls back on its familiar ways, one last time, for old times' sake.
Indiana Jones Movies Ranked
From thrilling escapades to sleepwalking adventures, Harrison Ford's eternal action hero has done it all.