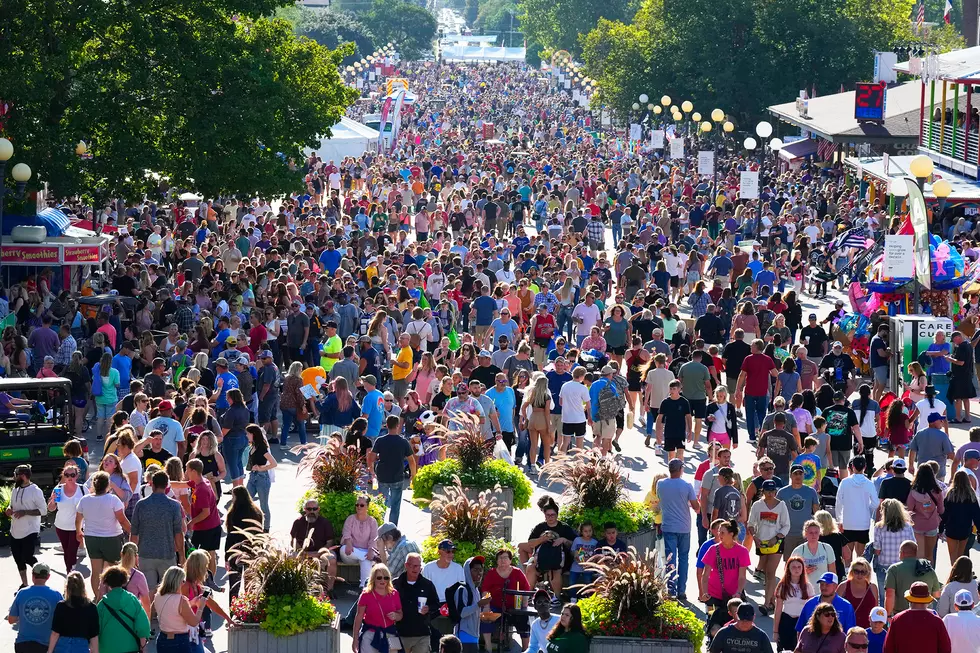 Iowa State Fair Sets Single-Day Attendance Record [PHOTOS]
Iowa State Fair
The biggest question each August when the Iowa State Fair rolls around is, 'Will it be too hot to go?' That was definitely not the case in 2022. Des Moines had 90 degrees (exactly) just one time during the 11-day fair and on four different days, temperatures didn't get out of the 70s. As far as fair weather is concerned, it doesn't get any better than that.
Last Friday turned into a bit of a nightmare at the Iowa State Fair as a flash flood caused by heavy rain hit the fairgrounds. However, when I visited late Saturday to attend the Keith Urban concert, I didn't see any signs of the issues caused by the previous day's downpour. Sure, there were giant ruts in some areas of the parking lots that were made inaccessible for Saturday, but the fairgrounds themselves were in great shape. And, the people came. Oh, did they ever come.
The Iowa State Fair announced that attendance on Saturday, August 20, was 128,298. That's the largest one-day crowd in fair history, beating the previous record of 127,277 that was set more than 30 years ago on Saturday, August 17, 1991.
Over the first 10 days of the 2022 Iowa State Fair (the Sunday, August 21 attendance hasn't been announced), attendance was over 100,000 four times:
Day 2 Friday, August 12: 103, 566
Day 3 Saturday, August 13: 113,012
Day 4 Sunday, August 14: 110,661
Day 10 Saturday, August 20: 128,298
Before anyone walked through the gates on Sunday, the 2022 Iowa State Fair had welcomed more than one million people. That marks 20 straight years that the fair has been held (it was canceled in 2020) and welcomed at least one million visitors. The streak started in 2002.
The 2023 Iowa State Fair will be held from August 10 through 20. Below are some of our favorite photos from the 2022 edition:
Great Photos from the 2022 Iowa State Fair
For the 20th consecutive year the Iowa State Fair was held (it was canceled in 2020), more than one million people attended the 11-day event in Des Moines.
The ABCs of Iowa
I know Iowa may not be the most popular state to visit, but we still have plenty to offer! Using countless article, websites, lists, and maps, we put together a list of some of Iowa's best and biggest events, venues, and attractions using every letter of the alphabet (which wasn't easy)! Unfortunately, we couldn't include EVERY awesome place in the state (there aren't enough letters!), but here are our Iowa ABCs: