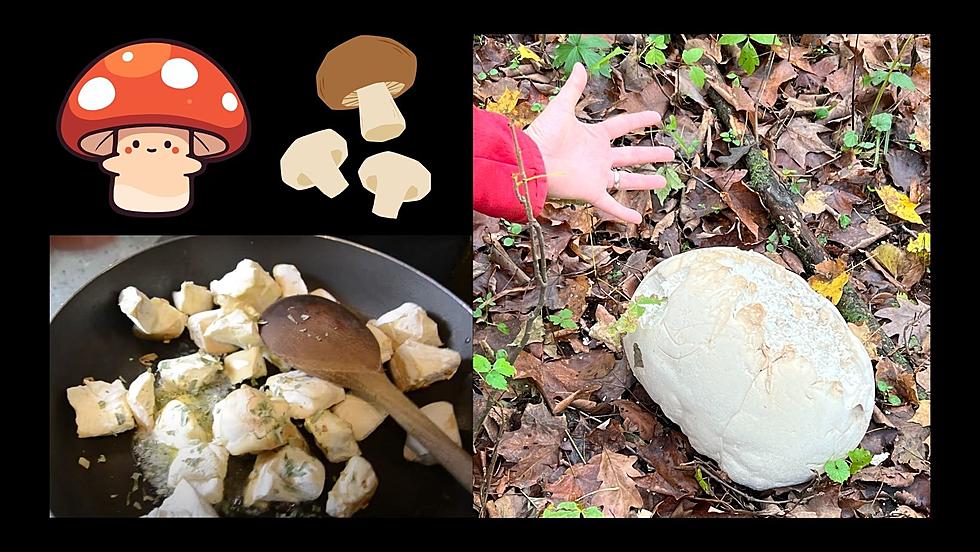 Iowa's Biggest Mushroom is Ready for Harvest in Dubuque: If You Can Find It
Credit: Penny Post YouTube Channel / Tom 'Drake' Ehlers / Canva
As many of you know that follow me here, I'm always out and about exploring, hiking and foraging for good and unique eats. This weekend a trek through Dubuque's Swiss Valley Nature Preserve could have been fruitful for "shroomers" and people with a palate set to adventure.
While hiking through the mature forest loop at Swiss Valley, my wife and I came across Iowa's largest mushrooms, and there were quite a few of them, all located about halfway down the one-mile loop trail.
Just how big is a giant puffball mushroom? About this big...
Most giant puffballs grow to be 4 to 20 inches, but can sometimes be up to 35 inches in diameter. The largest specimens will occasionally reach diameters of 60 inches and can weigh close to 44 pounds. The fruiting body of a puffball mushroom can develop within the period of a few weeks and soon after will begin to decompose and rot. Once it begins to rot it is dangerous to eat.
Unlike most mushrooms, all the spores of the giant puffball are created inside the fruiting body; large specimens can easily contain several trillion spores.
The inside of mature giant puffballs is greenish brown, whereas the interior of immature puffballs is white. Needless to say, we want to grab these delicacies when they look like this (below).
The large white mushrooms are edible when young, as are all true puffballs, but can cause digestive upset if the spores have begun to form. You can figure this out as indicated by the color of the mushrooms flesh being not pure white. First the mushrooms yellow, and then turn brown as they move towards spore dispersion.
To distinguish puffballs from poisonous fungi, they must be cut open; edible puffballs will have a solid white interior. Some similar mushrooms have the white interior, but will also have the silhouette of a cap-type mushroom on the interior when cut open. These young cap-type mushrooms may be poisonous. It should go without saying, if you are unsure of a particular species of mushroom you are foraging, it is best to leave it alone and avoid a miserable death, or the intestinal trauma that comes with surviving ingesting a poisonous mushroom.
How can a giant puffball mushroom be prepared and ate?
Well, step one is cleaning it thoroughly. Basically, wipe it with a damp cloth or use a soft brush to remove any dirt or debris that may be on the surface. Avoid rinsing the mushroom under water as it could lead to a spongy texture.
After cleaning, you can either slice the mushroom into thick pieces or cut it into cubes depending on your recipe. If you're using the whole mushroom, make sure to remove the mushroom skin. It's quite tough and inedible.
Now you're ready to cook, bake, or grill. Anywhere you would use a mushroom in a recipe, a giant puffball will work just as well. A mainstay seems to be rubbing a thick mushroom slice with olive oil or butter, garlic, salt and pepper, and then placing it on the grill. Call it a mushroom steak if your looking to cut out some meat now and then.
When it comes down to it, mushrooms just might not be your thing, but foraging and cooking a giant puffball mushroom can be a unique and satisfying experience. Not only is it an unusual food but it's also healthy and delicious. Did you know, these mushrooms are the main source of the anti-tumor mucoprotein calvacin. Go foraging! Learn about your local "delicacies" and taste something exotic and new. You may just find something you love to do and eat.
Hiking Trails and Nature near Dubuque, Iowa
Nature and hiking areas around the Dubuque, IA area.
Gallery Credit: Tom Ehlers
Photos: Eden Valley Refuge
A trip through the trails and nature center at Eden Valley Refuge in Baldwin, IA
Gallery Credit: Tom Ehlers
Photos: A Trip Through Wild Cat Den State Park
My Families 3.3 Mile Hike Through Wild Cat Den State Park Outside of Muscatine, Iowa.
Gallery Credit: Tom Ehlers
Photos: Northeast Iowa's Yellow River State Forest
Exploring Yellow River State Forest in Northeast Iowa.
Gallery Credit: Tom Ehlers