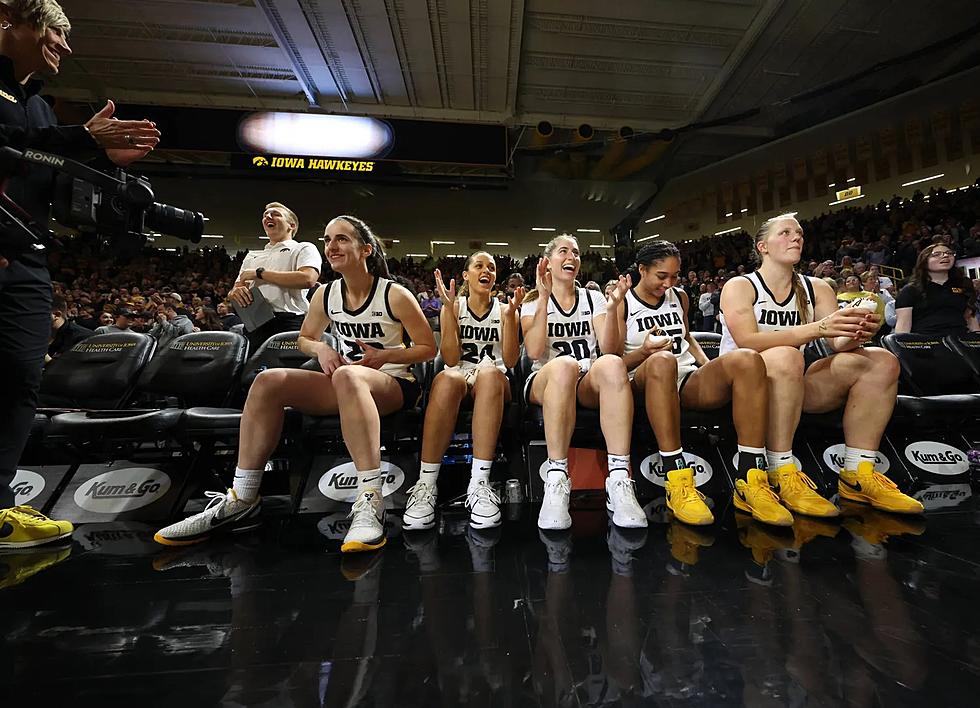 Iowa's Two New Starters, Both Iowa Natives, Soar in Opening Game [PHOTOS]
Brian Ray, Hawkeyesports.com
For the first time in the history of the Iowa women's basketball program, their home opener was a sellout. That's something Iowans will get used to real soon since the entire season at Carver-Hawkeye Arena in Iowa City is sold out.
Monday night's 102-46 victory over Farleigh Dickinson featured four Hawkeyes in double figures, including two new starters. Iowa led all but 18 seconds of the game and led at halftime 60 to 24. The Hawkeyes had a fun night, especially after Molly Davis hit a miracle shot at the end of the first quarter.
Hawkeye senior Caitlin Clark led the way for Iowa with 28 points in 23:39 on the court. She also grabbed seven rebounds and handed out 10 assists. Clark was four of nine from 3-point range.
The seemingly always hustling Sydney Affolter (#3 below) scored 11 points and pulled down six rebounds in just under 14-and-a-half minutes on the court. She also had two assists and one steal.
6'2" sophomore forward Hannah Stuelke, taking the place of departed senior McKenna Warnock in the starting lineup, had a big game in only 18:34 on the floor. She scored 22 points, hauled in nine rebounds, and had two assists and two steals. Stuelke, a Cedar Rapids native who played at Cedar Rapids Washington, also connected on one of two attempts from outside the arc.
Perhaps the biggest surprise of the night came from 6'3" redshirt junior Sharon Goodman. A native of Lime Springs, Iowa, she was a formidable replacement for Monika Czinano who was drafted into the WNBA after a tremendous career.
Goodman played just over 16 minutes Monday night. During that time, she scored 19 points and grabbed four rebounds. She also had one beautiful blocked shot.
Stuelke and Goodman were a combined 16 of 18 from the floor in Monday night's win.
Up next for Iowa is a real test. They play 8th-ranked Virginia Tech in the Ally Tipoff at 7 p.m. Iowa time Thursday night in Charlotte, North Carolina. The game will be televised by ESPN2.
On Sunday, Iowa visits a sold-out McLeod Center in Cedar Falls to take on the UNI Panthers. The 2 p.m. tip-off is not televised.
Our Favorite Caitlin Clark Photos
Iowa's nunber two scorer of all-time, after just three seasons, Caitlin Clark continues to build on her already legendary career.
Gallery Credit: Getty Images
All the Corridor Restaurants That Have Opened in 2023 So Far
Here are some of the new places that you can check out near Cedar Rapids and Iowa City, as of November 8th!
Gallery Credit: Courtlin