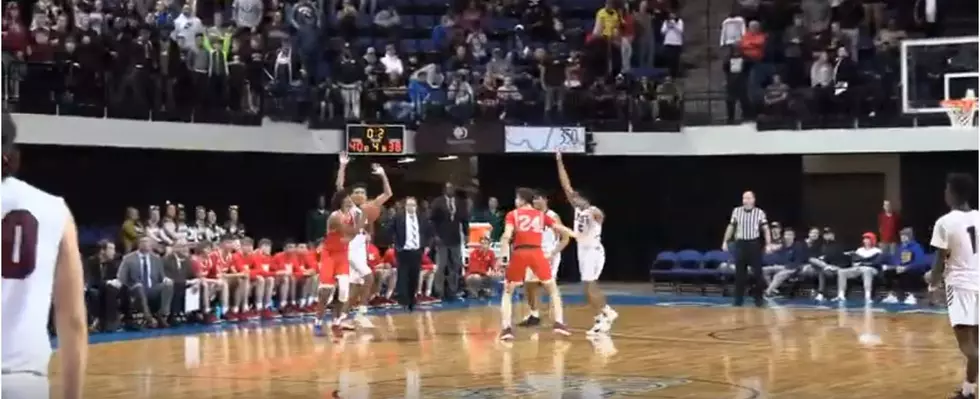 Online Petition Started To Overturn North Scott's Substate Win
The Gazette - Cedar Rapids, Iowa via YouTube
An online petition has been started to have the Iowa High School Athletic Association (IHSAA) to grant the Waterloo West boys a spot in next week's state tournament after the Lancers won in a last second shot against West, 41-40.
Everyone is a referee. It doesn't matter if a person knows about a sport or not, everyone is a referee. Personally, I love sports! But between extremely hyper fans who are annoying and parents who want to coach from the stands because they can't actually coach, everyone knows everything about the sport their favorite team or kid is playing. Just being honest over here.
On Tuesday, March 2nd, the North Scott Lancers defeated the Waterloo West Wahawks 41-40 in an incredible last second shot by Tytan Anderson at the U.S. Cellular Center in a Class 4A substate semifinal game. This punched the Lancers' ticket to Des Moines to play in the state basketball tournament.
A little background on me. I just moved to the Quad Cities from Waterloo. I went to school at the University of Northern Iowa. I was born and raised in Clinton so everything would probably point to me routing against North Scott, right? No.
North Scott won fair and square. Ty Anderson, a UNI commit, made an incredible shot for the win. Is that good enough for anyone? Nope. Why would it be? It's 2020 and social media has made everyone not just a 5 star referee, but a 5 star replay official too because they can pause and screenshot.
Having a lot friends from the Cedar Valley on social media, my timeline has seen this photo apparently proving that West won the game.
This photo has warranted the petition on change.org to begin. Here is what the petition reads:
Waterloo West High School Boys Basketball has been one of the top ranked teams in Class 4A in Iowa this season. West High was looking to make it's first trip to the state tournament since 1994. North Scott hosted the finals of substate at the US Cellular Center, which was supposed to be neutral turff. West High's coach was not notified of this until the day before.

 

Throughout the game, the score table made numerous mistakes, including forgetting to give West High points in a timely manner and not starting the game clock on time. Towards the end of the game West High scored taking the 40-38 lead over North Scott. With .6 seconds left, North Scott made a Hail Mary pass to a player on the other side of the court. This player had .6 seconds to catch the ball, land, turn around and shoot a 3 pointer well beyond the high school three point line. The referees called the shot good sending North Scott to the state tournament.

 

However, there is numerous video and photo evidence indicating that the player did not release the ball before the buzzer. In the videos you can also see that the clock, buzzer and backboard lights were not in sync, not allowing the referees to make an accurate assessment.

 

West High Boys Basketball worked hard to get to this point and deserves to be in the State Tournament.
Dumbest thing I've read and I'm from Clinton.
Jim Nelson, who is a very credible writer for the Waterloo-Cedar Falls Courier wrote in his piece about this petition that the official high school rule book states:
A red light behind each backboard or LED light on each backboard is permitted to signal that time has expired for a quarter or extra period. In facilities without a red light behind or an LED light on each backboard, the audible timer's signal shall indicate that time has expired.
In an off-the-record conversation Nelson had with an IHSAA representative, the rep. said there is no rule in place allowing the association to review video and change the ruling from Tuesday.
The ruling won't change with or without a petition.
I wasn't at the game. I don't know who was operating the score board and the clock. It's a high school basketball game to go to state. Is that a big deal now? Absolutely. Did Waterloo West have an incredible season? They did. In fact they beat Cedar Falls twice this season! To compare, that's like beating Bettendorf twice in one season when Pat Angerer was in high school. It just doesn't really happen.
Does North Scott deserve to go to the state tournament? Yes because they won. Does Waterloo West deserve to go? No because they lost. If you feel the opposite way, the link to the petition is right here: https://bit.ly/2PNZWEo
As of right now, there are 5,100 signatures. 5,100+ sore losers.
Congrats to the North Scott Lancers on advancing to state. Also, congrats to Davenport North on punching their ticket to state against Dubuque Senior in Clinton on Tuesday. They also won in a buzzer beater but I haven't heard any controversy on that...
Enter your number to get our free mobile app