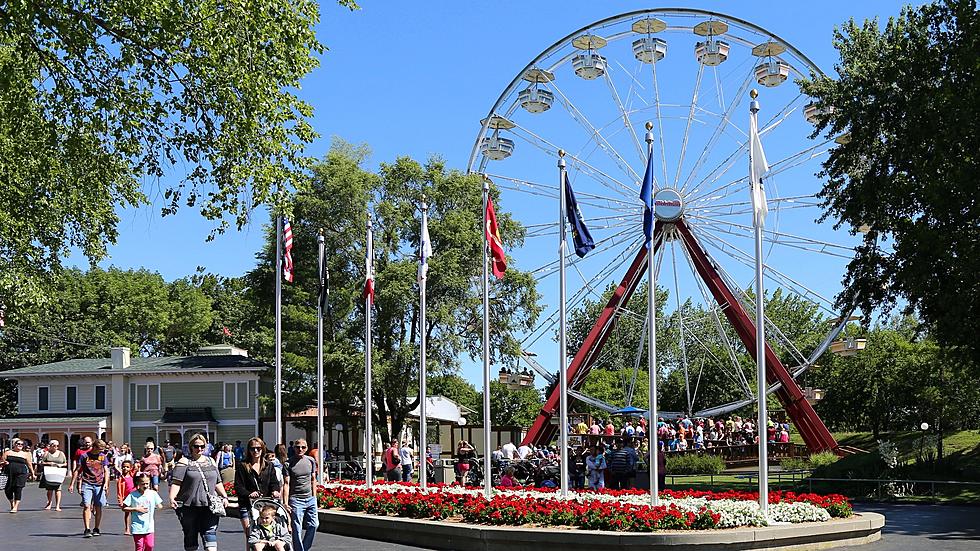 There's a Grand Opening This Weekend for 2 New Adventureland Rides
Adventureland Park
The time has finally come! This weekend, Adventureland in Altoona will host a grand opening for their two new rides!
Late last summer, the beloved Iowa theme park Adventureland began teasing some big news. They revealed on August 9th that the park's 2023 season would include two new Viking-themed rides! The first of the two is the Flying Viking, a family-friendly rollercoaster full of "twists, turns, and drops." According to Adventureland's website, the coaster "reaches speeds of up to 26 miles per hour and climbs to heights of up to 50 feet." It joins the Outlaw, Tornado, Monster, Phoenix, and Dragon Slayer to become the park's 6th rollercoaster. Riders must be at least 36," and any riders up to 48" must be accompanied by a supervising companion of the required height.
The Flying Viking share an entrance with Adventureland's other new ride, Draken Falls. Draken Falls is a log flume ride with family-sized carts so that your whole group can ride together. The new attraction promises "plenty of laughter and a hearty dose of splashes," so prepare to get wet! The minimum height requirement is 42", with riders between 42" and 48" needing to be accompanied by a supervising companion of the required height.
Adventureland has been giving season passholders exclusive rides on the Flying Viking ahead of its grand opening on Saturday, but otherwise it will be open to everyone beginning at 9:30 a.m. on Saturday, June 24th! You can get more information on rides and tickets for Adventureland's 2023 season on their website HERE.
Speaking of new rides, the Iowa State Fair announced a bunch of them for 2023's fair! You can read more about them HERE.
22 Fun Places to Take Your Kids This Summer in the Corridor
We put together a list of 22 kid-friendly places in the Corridor - some for little ones, some for kids, some for teens, and some for kids at heart! Here are some venues you might want to check out!
Great Photos from the 2022 Iowa State Fair
For the 20th consecutive year the Iowa State Fair was held (it was canceled in 2020), more than one million people attended the 11-day event in Des Moines.