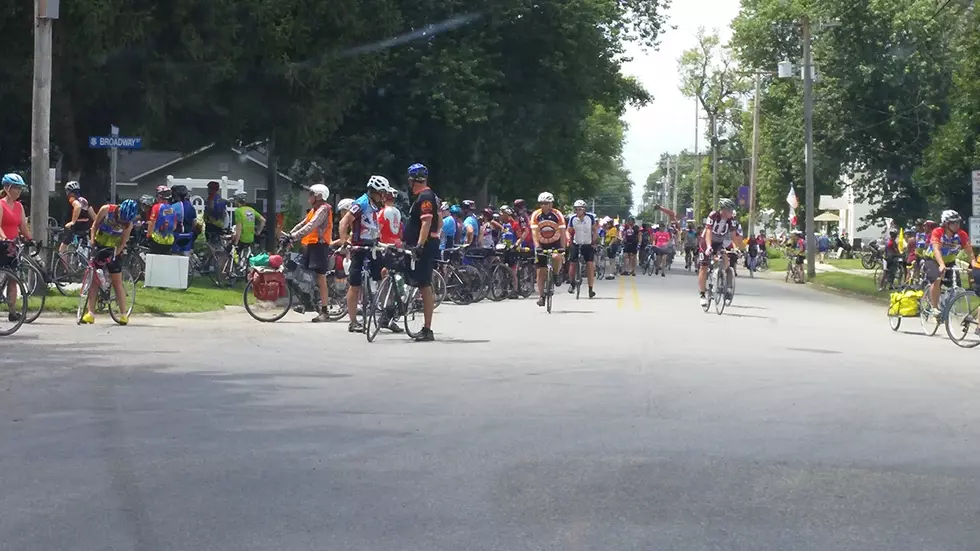 Waterloo To Serve As 2021 Overnight RAGBRAI Stop
Photo By: Elwin Huffman - Townsquare Media
When the Register's Annual Great Bicycle Ride Across Iowa makes a stop in the Cedar Valley this summer, participants will pedal through Evansdale and Elk Run Heights for the first time in the event's near half-century history.
Waterloo has been selected to host an overnight stop on the world's largest organized bicycle ride for the fourth time, along with Iowa Falls. The 48th annual week-long, state-wide event is scheduled for July 25-31, starting in Le Mars and ending in Clinton.
This year's event will feature a climb of 11,481 feet, making it the 16th flattest in RAGBRAI history. Organizers released the official route over the weekend.
Sunday, July 25th: Le Mars to Sac City (79.5 miles -- 2,665 feet)
Monday, July 26th-Sac City to Fort Dodge (53.7 miles -- 807 feet)
Tuesday, July 27th-Fort Dodge to Iowa Falls (54.9 miles -- 1,006 feet
Wednesday, July 28th, Iowa Falls to Waterloo (68 miles -- 1,619 feet)
Thursday, July 29th-Waterloo to Anamosa (77.8 miles -- 2,546)
Friday, July 30th-Anamosa to DeWitt (60.3 miles -- 1,690)
Saturday, July 31st-DeWitt to Clinton (31.6 miles -- 1,148)
RAGBRAI will pass Ackley, Austinville, Aplington, Parkersburg, New Hartford and Janesville between Iowa Falls and Waterloo. Riders will also pedal through Evansdale, Elk Run Heights, Raymar, Gilbertville, Brandon, Urbana, Center Point, Alice and Central City between Waterloo and Anamosa.
RAGBRAI is returning to Waterloo for the first time in 10 years (previous stops: 1974, 1985 and 2010), will Iowa Falls is serving as an overnight host the first time in 16 years (previous stops: in 1978, 1995 and 2004). RAGBRAI was scheduled to stop in both cities last year, but the the coronavirus pandemic forced the 2020 event to be canceled.
Enter your number to get our free mobile app
Top Things Everyone Knows (Or Should Know) About The Cedar Valley