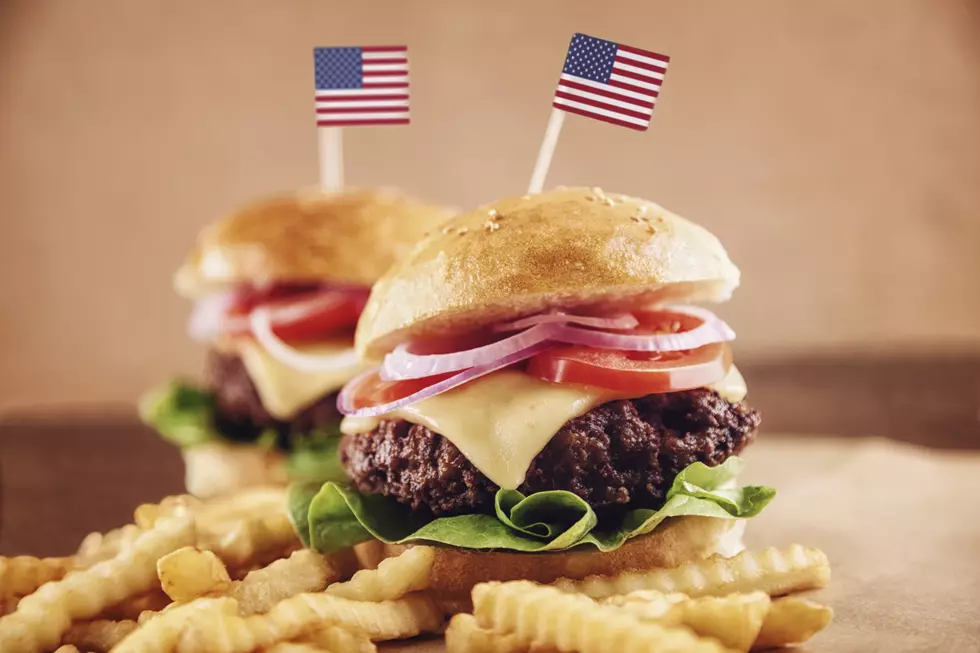 Iowa Makes It on Food Network's 100 Best Burger List
NatashaPhoto
There's something about chowing down on a nice, juicy burger that just hits a bit differently. Several Iowa burger joints have been recognized by the Food Network in an annual list.
Every year, the Food Network puts together a list of the 100+ Best Burgers in America. From pork rolls to Black Angus, these different burgers really do satisfy the cravings of each and every burger-loving person out there!
This year, multiple Midwest restaurants are featured on this list. Two of these eateries are actually located right here in Iowa!
Here is the full list of burger joints featured on the list:
Beer Belly, Los Angeles
June's All Day, Austin, Texas
The Smith, Washington, D.C.
Miznon at Chelsea Market, New York
Pincho Factory, Miami
Dis & Dem, Hattiesburg, Mississippi
Datz's, Tampa, Florida
Zombie Burger and Drink Lab, Des Moines, Iowa
The Hatch Rotisserie & Bar, Paso Robles, California
Simon & the Whale, New York
Compere Lapin, New Orleans
Zuni Cafe, San Francisco
Hog & Hominy, Memphis, Tennessee
Sac-A-Lait, New Orleans
The Copper Onion, Salt Lake City
Butcher & Bee, Nashville, Tennessee
DB Bistro Moderne, New York
The Pickled Pig Pub, Rehoboth Beach, Delaware
Burgers and Things, Honolulu, Hawaii
The Hollywood Cafe, Robinsonville, Mississippi
The Raven, Bigfork, Montana
Ramen Shack, Queens, New York
Gott's Roadside, St. Helena, California
Beer Bar, Salt Lake City
Odd Duck, Austin, Texas
Cypress Street Pint and Plate, Atlanta
Shake Shack, Multiple Locations
Firehouse Brewing, Rapid City, South Dakota
Du-par's Restaurant & Bakery, Los Angeles
Henry's Majestic, Dallas
Parker at the Fontaine, Kansas City, Missouri
Haystack Burgers & Barley, Richardson, Texas
Revolucion Taqueria & Cantina, Oklahoma City
Hugh-Baby's BBQ & Burger Shop, Nashville, Tennessee
Grey Ghost, Detroit
Lonesome Dove Western Bistro, Fort Worth, Texas
Belcampo Meat Co., Larkspur, California
6Smith, Minneapolis
In-N-Out, Multiple Locations
49th State Brewery, Anchorage, Alaska
Matt's Place Drive-In, Butte, Montana
Ted's Restaurant, Meriden, Connecticut
Shady Glen, Manchester, Connecticut
The Burger Stand, Topeka, Kansas
Dyer's, Memphis, Tennessee
Carl's Drive-In, Brentwood, Missouri
My Brother's Bar, Denver
Block 16, Omaha, Nebraska
Johnson's Drive-In, Siler City, North Carolina
Kroll's East, Green Bay, Wisconsin
Pint and Jigger, Honolulu
Main Street Meats, Chattanooga, Tennessee
Emily, Brooklyn, New York
The Stand, Phoenix
Cherry Cricket, Denver
RPM Steak, Chicago
The Grill at Torrey Pines, La Jolla, California
Au Cheval, Chicago
The Blue Duck Sandwich Co., Philadelphia
Hay Merchant, Houston
Pie 'n Burger, Pasadena, California
Minetta Tavern, New York
Father's Office, Los Angeles
Counter Cafe, Austin, Texas
Bru Burger Bar, Indianapolis
Chez Fonfon, Birmingham, Alabama
B Spot Burgers, Cleveland and More
Yakuza Lounge, Portland, Oregon
Husk, Charleston, South Carolina
Rhubarb, Asheville, North Carolina
The Company Burger, New Orleans
Broken Shaker, Chicago
Brindle Room, New York
Charm City Burger, Deerfield Beach, Florida
Bowery Meat Co., New York
Kush, Miami
Garden District, Washington, D.C.
Sid's Diner, El Reno, Oklahoma
The Local Craft Food & Drink, Miami
Mission, Newport, Rhode Island
Cowgirl BBQ, Santa Fe, New Mexico
Owen & Engine, Chicago
J.L. Beers, Fargo, North Dakota, and More
Villedge, Greenville, North Carolina
Burger Bob's, Bozeman, Montana
BRGR Kitchen + Bar, Kansas City, Missouri, and More
Green Dot Stables, Detroit
Paradox Grille, Gateway Canyons, Colorado
Mission Bowling Club, San Francisco
Saison, Richmond, Virginia
Jake's Burgers, Brookfield, Wisconsin
The Local Restaurant and Bar, Jackson Hole, Wyoming
Nosh Kitchen, Portland, Maine
Swinery Meats, Seattle
Tony's Burgers, Cathedral City, California
Burger Bar, Roy, Utah
Bachi Burger, Las Vegas
High Life Lounge, Des Moines, Iowa
Game, Louisville, Kentucky
Gabby's, Nashville, Tennessee
Hawkins House of Burgers, Los Angeles
Cotham's in the City, Little Rock, Arkansas 
Zombie Burger and Drink Lab, Des Moines, Iowa
This Des Moines-based burger joint is known for its unique flavor combinations. Described on their website as, "post-apocalyptic chic" the eatery has two locations in the state's capital: Downtown Des Moines and Jordan Creek.
High Life Lounge, Des Moines, Iowa
The High Life Lounge in Des Moines is no stranger to "best of" recognitions. This retro 1960s inspired corner tavern has been voted "Best New Bar" and "Best Downtown Hangout" not too long ago.
Esquire Magazine even named it one of the best bars in the country.
Snake Alley in Burlington, IA
Burlington, IA is just one hundred and fifty miles away from Waterloo and a hundred miles away from Cedar Rapids is one of the most see attractions for tourists. Ripley's Believe It or Not! voted Snake Alley as the #1 Odd Spot in America.
These Are The BEST Fast Food Menu Items That You Are Not Ordering
These are the best menu items at Cedar Valley fast food restaurants. I compiled this list from Reddit reviews and personal taste, too. See if you agree.