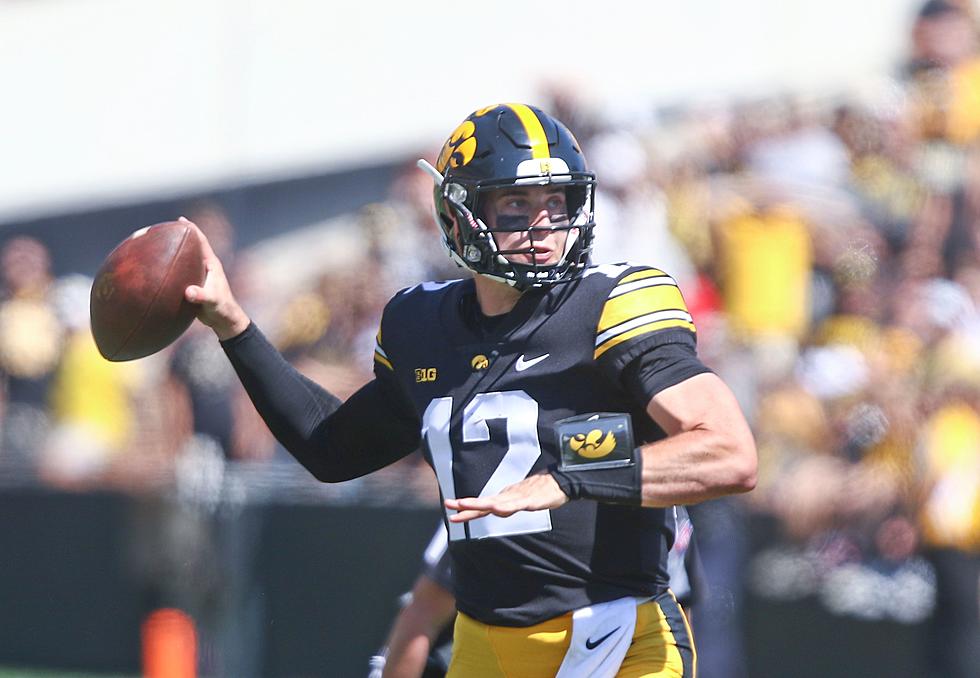 Injured Iowa Quarterback Vows to Return in 2024
Getty Images
This season didn't go quite like Michigan transfer Cade McNamara had envisioned. He had high hopes of leading an offensive resurgence in Iowa City. Instead, his season ended with a torn left ACL against Michigan State on September 30th. Despite the rough road ahead, McNamara remains committed to Iowa football.
The Daily Iowan reports that McNamara plans to return to the football field at Kinnick Stadium next season for the Hawkeyes. The quarterback made his announcement via social media on Wednesday.
In the post, McNamara stated that "the best we can do is put our faith in God and follow the path that he has chosen for us." McNamara had surgery on his right knee in 2022 and had been nursing a calf injury early in the season. The Daily Iowan reports that Iowa head coach Kirk Ferentz stated earlier this month that he is hopeful McNamara will be fully healthy by next year's fall camp.
McNamara's injury is just one that has further hampered the Iowa offense. Tight end Erick All transferred with McNamara from Michigan. He unfortunately suffered a similar fate as All tore his ACL in the Wisconsin game. Iowa's other top tight end, Luke Lachey, suffered a severe ankle injury in Week 3 versus Western Michigan and is likely done for the year. The Daily Iowa reports that Ferentz has stated that there is a slight chance Lachey could return should Iowa play in a bowl game. Neither tight end has announced whether they plan to return to the Hawkeyes next season.
Highlights of Iowa's 2023 Opening Victory Over Utah State
Iowa won the opener 24-14 on Saturday, September 2.
Gallery Credit: Getty Images
Our Favorite Photos From Iowa's Run to the NCAA Championship Game
The 2022-23 Iowa women's basketball season started on November 7 and concluded in the NCAA Championship Game against LSU on Sunday, April 2. Iowa went 31-7 and will be remembered forever for their five NCAA Tournament wins. Here are our favorite photos from the tournament.
Gallery Credit: Getty Images