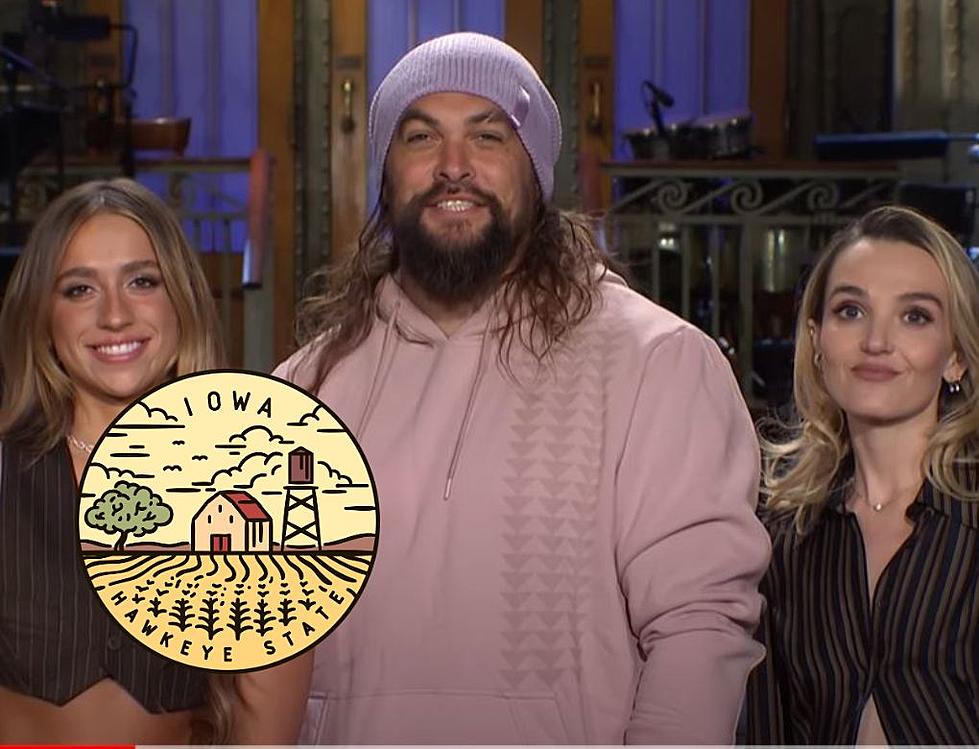 [WATCH] Blink & You'll Miss Jason Momoa's Iowa Shoutout
KM/NBC/Canva
Even though the actor's strike was going on for several months, Iowans were still able to get a piece of one of Hollywood's biggest stars. It's all because he has some Iowa ties.
Jason Momoa who plays the popular DC superhero Aquaman grew up in the Hawkeye State. Momoa is originally from Hawaii, but shortly after he was born his family picked up and moved to Norwalk, Iowa which is about twenty minutes away from Des Moines.
Last month, the star returned to Iowa. This visit wasn't necessarily for pleasure, it was meant to promote one of his latest projects; Meili Vodka.
He made two bottle-signing and photo ops stops at grocery stores here in the Hawkeye State. Momoa paid a visit to a Fareway Store in Norwalk and a Hy-Vee in Urbandale. Some eager fans waited in line for hours just to get a selfie and a bottle of vodka from the DC actor.
Now He's Back On Our Television Screens
As a part of the promotional tour for the sequel to the hit superhero movie, Momoa is taking another spin at hosting 'Saturday Night Live.' In the traditional host promo that he did with his musical guest and SNL cast member Chloe Fineman, the star poked a little fun at his image.
Fineman mentioned just how exciting it was to be standing beside THE Aquaman.
"Well, Chloe, the human body is 60% water, so in a way, we're all Aquaman!" Momoa joked.
The comedian then teased the actor for having brains and brawns. Then in a way to one up this, he started stating random facts. One of them was that Des Moines is the capital of Iowa.
Was this just off the cuff? Or did the A-lister mean to give a little wink to the state that he grew up in?
You can watch the full promo for Momoa's episode down below!
Jason Momoa will be hosting 'Saturday Night Live' on Saturday, November 18th with musical guest Tate McRae.
This will also be the second show since the actor's strike ended, so we should definitely expect to get a whole lot of Aquaman references as he promotes the upcoming sequel.
'Aquaman and the Lost Kingdom' is set to hit theaters on December 23rd of this year.
Stay up to date with everything going on in Eastern Iowa by downloading the free station app from your app store. Also, do not forget to follow the station across all social media platforms so you can be in the know about the latest news in your area.
Smallest Populations In Iowa
Smallest Populated Towns In Iowa
Gallery Credit: Gabe Glidden
Strangest Rental Properties In Iowa
Here are just some of my favorite strange and cool rental properties that you can check out in Iowa!
Gallery Credit: Kerri Mac