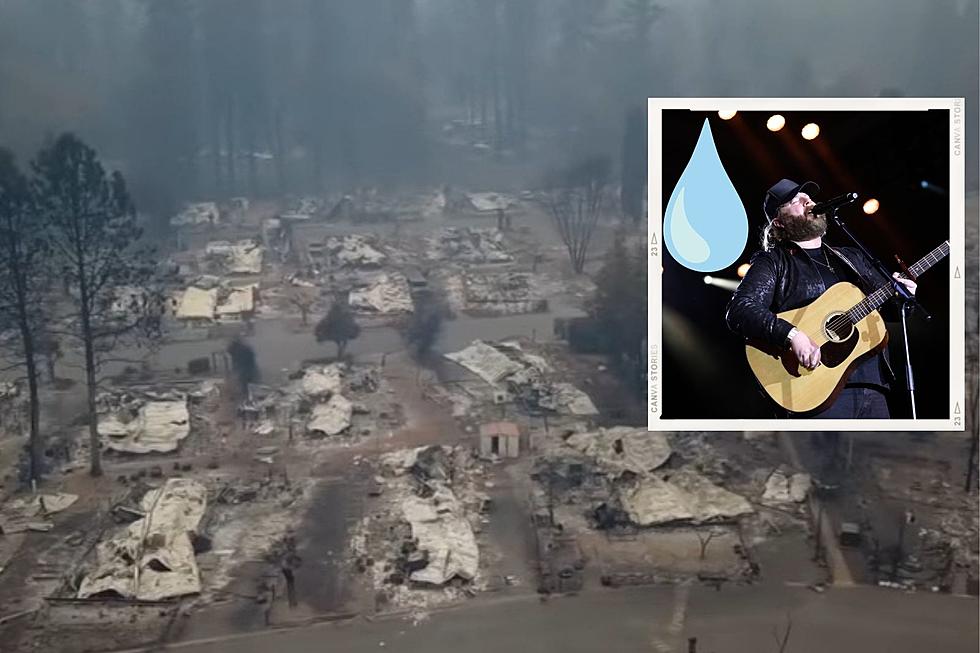 New Star Tells Cedar Rapids Crowd How Fire Led Him to Country Music
KTVU Fox 2 San Francisco, YouTube/Getty Images/Canva
Sometimes anguish and heartbreak can lead to something very special. That's exactly what's happened to a rising country star.
Last Friday night, Nate Smith performed at the Alliant Energy Powerhouse Arena in Cedar Rapids, in support of Cole Swindell's 'The Twelve Tour'. It was an awesome night of live music, and Smith played a large role in that.
During Smith's 45-minute set Friday evening, the very talented performer had the crowd up and singing along. At one point during the show, he shared part of his amazing path to being a country music singer.
Smith began to sing at nine years old. By age 13, he'd talked his dad into buying him a guitar, which he said he practiced for hours upon hours. Smith would soon begin to write songs. At the age of 22, he was offered both a record contract and a publishing deal and made the move to Music City.
Things didn't work out as Smith had hoped and, "100 percent done with Nashville", he went back home to Paradise, California. Smith was born and raised in Paradise and was working as a Certified Nursing Assistant when tragedy struck. In November of 2018, the community was devastated by the Camp Fire. The video below shows Smith reflecting on that day and includes footage of him returning to find what was left after the fire.
At the concert in Cedar Rapids on Friday, Smith shared how after the fire he received a guitar that restored his passion for music. he used it to write a song about his hopes for his hometown. The song is called "One of These Days".
Smith recognized what the song was doing to lift his hometown and knew what he wanted to do. It was time to go back to Nashville.
During Friday night's performance, Smith shared that, at age 35, he had to call his parents for money. Smith said he recognized he had only $14 left to his name when a monumental turn in his life took place the very next day... Sony Music Nashville ordered him a publishing deal.
In 2020, Smith posted a short video to TikTok of one of the songs he co-wrote. It went viral.
Three days before the 3-year anniversary of the devastation of his hometown, Smith had more special news to share.
When Smith told his brother the wonderful news, they both cried.
In January of 2023, Smith hit #1 on the country music charts for the first time with his hit 'Whiskey on You' (video below).
Nate Smith says he always tries to find the hope in the situation. He did that after the fire that leveled his hometown and, almost five years later, he continues to be rewarded.
10 Artists We Totally Underestimated
Oliver Anthony
is country music's newest underdog, but he's just next in line on a list of hitmakers that fans, the media and the music industry scoffed at.
This list of 10 artists we underestimated includes at least five legitimate superstars with dozens of No. 1 hits, two
American Idol
finalists and country music's first real viral sensation. Each has proven themselves worthy in ways nobody saw coming.
Gallery Credit: Billy Dukes
20 Country Artists Who Peaked With Their First Album
These 20 country stars prove a long, satisfying career is possible after dropping your signature project.
Gallery Credit: Billy Dukes
25 Country Songs to Add to Your Tailgating Playlist, Ranked
Whether you're gathering with fellow fans for Sunday's big game, or settling in under those Friday night lights, these are the country songs you'll want on your tailgating playlist.
Gallery Credit: Amy McCarthy