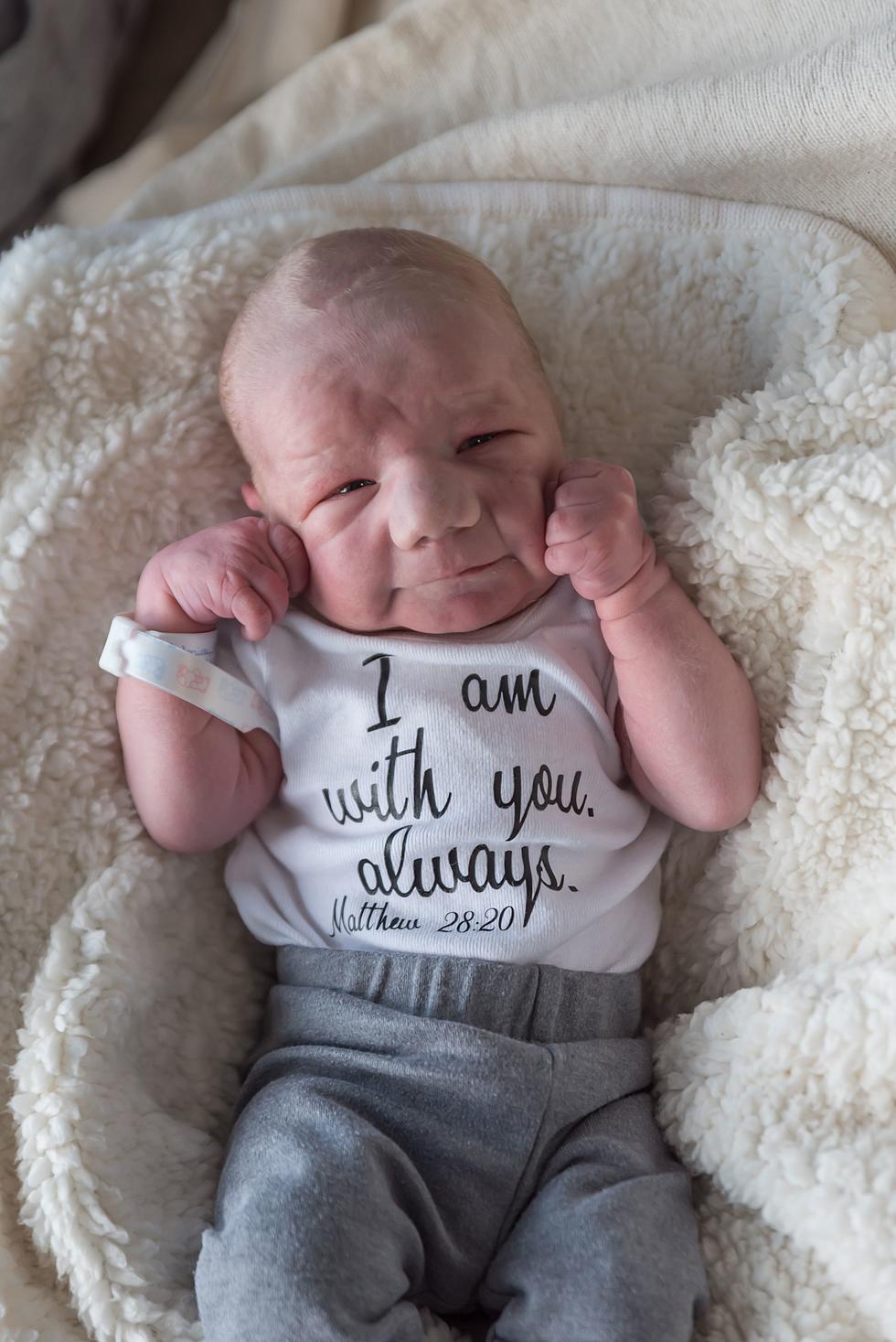 Cedar Valley Event Held This Summer to Honor Babies Gone Too Soon
Matthew Admire - Photo courtesy - Haley Admire
In early October 2018, Cedar Falls' Kaleb and Haley Admire, during their 21 week ultrasound, got the news no parents ever want to hear..."your baby has a "significant heart defect" and we're referring you to the University of Iowa Hospitals and Clinics". As Haley explains her story on the No Foot Too Small  website, in addition to his heart defect...he also had enlarged kidneys and a shortened cerebellum. After an amniocentesis, to screen for developmental abnormalities in the fetus, their son, Matthew was diagnosed with Trisomy 13, a very rare chromosomal disorder deemed "incompatible with life".
Luckily, for the Admire's, and the thousands of other parents, who have suffered through the devastating experience of losing a baby, there's a support group for them. No Foot Too Small created by an Iowa City couple, "was founded out of a desire to draw awareness to pregnancy loss and infant mortality while encouraging the celebration of angels."
Since 2013, NFTS has gifted more than $500k to critical initiatives including building birthing and bereavement suites in hospitals. Over the years, thousands have gathered for their various annual events to honor babies who've lost their lives too soon. One of those events will be held locally this summer in Cedar Falls.
Cedar Valley Angel Invitational - Friday July 9th, 2021
Sometimes it's easy to forget that not only the mom's are hurting, but the dad's are too. Whether you are a bereaved dad, know a bereaved dad or just want to support an incredible non-profit organization, you're welcome to attend. NFTS will host their 1st Annual "CV Angel Invitational Golf Event" on Friday, July 9th. Get your team together for this 4-Person Best Shot Tournament that will take place at Pheasant Ridge Golf Course.
After you get off the greens, join your friends for a post-party, with a program and awards ceremony. Get all the details here...then click here to register.
No Foot Too Small
Admire explained that the organization's name, "No Foot Too Small" came from the quote "there is no foot too small that it cannot leave an imprint on the world". As proven, by her son Matthew. His time on Earth was extremely short, (he only survived 33 hours after birth) but he left an indelible impression on his parents, loved ones and friends that will last forever.
Sign up now - Summer Iowa Games - Register for One of These Fun Events - Photos
Registration is now open for many of the over 50 sports offered during the Summer Iowa Games. Most of the competitions will be held from July 10 - August 1. The majority of the sporting events and competitions will take place in the Ames community, Iowa State University campus and in the Des Moines area. Check out the full list of events
here
. Most events will have an early, middle and final deadline. Check your favorite sport for details and deadline dates. If you get signed-up early, you'll save on registration fees.
Farmers Markets in the Cedar Valley & NE Iowa - List
There's a Farmers Market in Waterloo, Cedar Falls or in the surrounding area almost every day of the week! Check 'em out and support your friends and neighbors. Buy Fresh - Buy Local